Image

DoD photo by U.S. Army Sgt. Richard Gerszewski
DOD Centers Share Best Practices on 'Securing Borders against Traveling Terrorists'
By Christine June
Public Affairs Office
George C. Marshall European Center for Security Studies
GARMISCH-PARTENKIRCHEN, Germany (May 20,2019) – The U.S. Department of Defense Regional Centers in the Indo-Pacific and Europe teamed up to host the first collaborative global counterterrorism alumni workshop here from May 13 to 17.
Professors of the counterterrorism courses at Daniel K. Inouye Asia-Pacific Center for Security Studies in Hawaii, and George C. Marshall European Center for Security Studies based here, organized this workshop for their alumni to discuss and exchange ideas, best practices and recommendations regarding the issues of how to deal with "Securing Borders against Traveling Terrorists."
Attending this week-long workshop were 24 security professionals, 10 alumni from DKI APCSS and 14 from the Marshall Center, representing 19 countries.
'Practice What You Preach'
Retired U.S. Marine Corps Col. James Howcroft, Marshall Center's course director of the Program on Terrorism and Security Studies, and Professor Shyam Tekwani, DKI APCSS course director for the Comprehensive Security Responses to Terrorism, have often guest lectured at each other's counterterrorism programs.
"We have years of experience and exchange between the Marshall Center and Asia-Pacific Center, specifically on our counterterrorism courses, because we both have the mandate of building global networks of counterterrorism practitioners," Howcroft said.
After years of coming to the Marshall Center, Tekwani came up with the idea to do this workshop for alumni from both programs.
"I discovered that every time I participated in Jim's courses, I had fresh ideas and insights into the entire business of counterterrorism that I would incorporate into my course," Tekwani said. "Then, it occurred to me that it just made sense to bring both sets of alumni together and pull our resources for the maximum benefit of each participant."
He added, "We go on and on about how important it is to cooperate to further the counterterrorism efforts to fight terrorists, so it just made sense for our centers to cooperate to practice what we preach."
Portrait image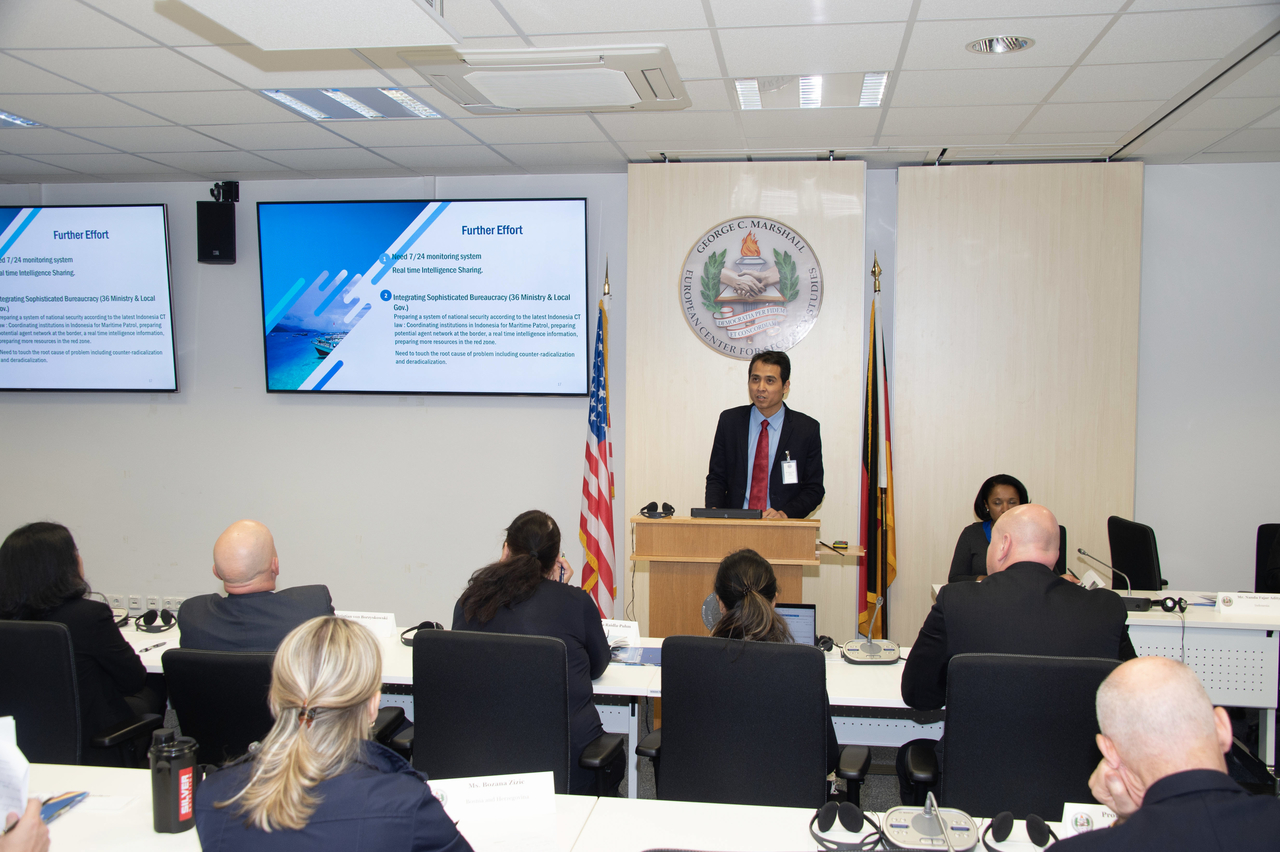 DoD photo by U.S. Army Sgt. Richard Gerszewski

Alumni Teaching Alumni
Panel discussions were spearheaded by alumni talking about best practices and experiences on securing borders from traveling terrorists. These alumni were from Greece, Malta, Indonesia, Malaysia, India, Sri Lanka, Romania, Kosovo, Estonia and Thailand.
There were also case study comparison sessions to identify best practices.
The workshop recommendations and listing of best practices will be published in a report and distributed throughout the network, as well as the public.
Power of the Network
Both professors said their courses are participant-driven and that this initial collaborative alumni workshop significantly enhanced the value of both centers' network of counterterrorism-focused alumni.
"I think this workshop strengthening ties between our alumni who were able to exchange perspectives and experiences," Tekwani said. "I also think it also provided a way for us to engage with our partners and stakeholders who will then support and benefit from the work done by our alumni sharing their best practices and experiences during this workshop."
Howcroft said that this workshop contributed to the relevance and currency of Marshall Center and DKI APCSS alumni networks.
"This was the purest and cleanest example of the power of the network and what a global concept this network is and the value of reaching out and speaking to people around the world who face the same problems you do," he said.