Image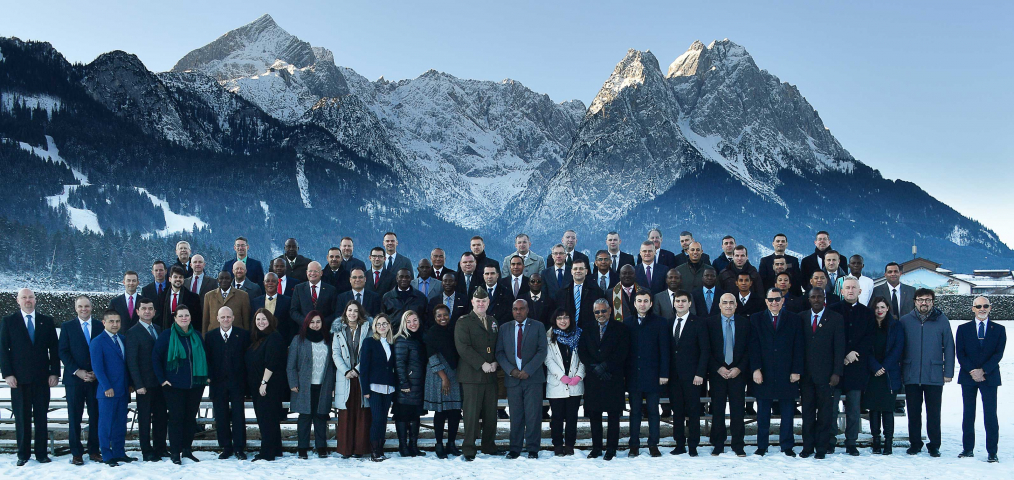 Marshall Center Alumni Share Ideas on Proxy Forces, Irregular Warfare Campaigns
By Christine June
Public Affairs Office
George C. Marshall European Center for Security Studies
GARMISCH-PARTENKIRCHEN, Germany (Jan. 24, 2020)  – Under what circumstances are states likely to employ proxy forces was just one of several questions studied by 68 defense and security professionals from 47 nations during the Global Counterterrorism Alumni Community of Interest Workshop held from Jan. 21 to 24 at the George C. Marshall European Center for Security Studies.
"We have brought back alumni from various resident courses to examine proxy forces and their uses in terrorist and irregular warfare campaigns," said U.S. Marine Corps Col. Gary R. Reidenbach, Marshall Center's Commandant of the Marine Corps chair and PTSS program director. "For this workshop, we have chosen the proxy forces and irregular warfare topics because of guidance that we've received from stakeholders in Washington D.C."
He added, "There's been a lot of support from the alumni network to talk about this, as well as from the current headlines around the world."
This workshop provided the atmosphere for the alumni to discuss and exchange ideas, and identify challenges and key takeaways regarding the issues of proxy forces in terrorist and irregular warfare campaigns. They explored evolving challenges in the field of terrorism and irregular warfare used today by governments employing proxy or surrogate forces. 
"In addition to traditional studies of terrorism, the irregular warfare and proxy forces aspect is one that has caught the attention of Washington and Berlin, and you are the cutting edge as we dig deeper into the topic," said Marshall Center Director, retired U.S. Army Lt. Gen. Keith W. Dayton, during his opening remarks Jan. 22.
"The employment of such non-governmental forces can play either positive or negative roles in the conduct of a campaign," he added. "Most commonly, this manifests itself as support and direction by a state of a terrorist or insurgent group that supports its foreign policy objectives, so-called state sponsored terrorist groups."
The examples he listed in his remarks were: Islamic Republic of Iran's long-term sponsorship of Hezbollah for operations against Western or Israeli targets; Russian Federation's support and direction of "separatists" operating in eastern Ukraine against the central government in Kyiv; and, Islamic Republic of Pakistan's support for groups such as Lashkar e Taiba or Jaish-e-Mohammed as tools in Indian-administered Kashmir. 
Marshall Center's Professor of National Security Studies, James K. Wither, a core member of the PTSS team, gave an introductory presentation on "Proxy Forces in Irregular Warfare and Terrorism" to establish an analytical framework for the workshop. Over the next three days alumni participants led panel discussions on the use of proxy forces in various countries including Libya, Russia, Ukraine, Venezuela, Pakistan, Syria, Iran, Nigeria and Mali. These case studies were followed by conclusions and recommendations presented by each workshop team.
The other questions, these alumni had to consider during these panel discussions were:
In what ways do states sponsor and support proxy forces?
What are the dangers of using proxy forces instead of regular security forces?
How can states maintain control of their proxy forces?
Can the use of proxy forces be justified politically and legally?
How are private military security companies used by states in operations against terrorists and insurgents?
What is the legal status of private military security companies? What are their advantages and disadvantages? Are they the way of the future?
What role should irregular groups play in countering terrorist operations?
Why do governments support these groups? What do the case studies say about their effectiveness?
Reidenbach said this topic will be woven into PTSS programs and the accompanying global counterterrorism alumni workshops. Held twice a year, PTSS is a functionally-focused program that draws in civilian, law enforcement, and military counterterrorism professionals from around the world and improves their capacity to combat terrorism's regional and transnational implications. It aims to combat terrorism in all of its manifestations: nationally; regionally; and, globally.
"Look, we live in a globalized world where shared security challenges call for cooperative or shared solutions and perhaps, most importantly, for shared implementation of these solutions – in other words, shared responsibility," said the Marshall Center's U.S. Deputy Director, retired U.S. Air Force Brig. Gen. Dieter E. Bareihs, during his closing remarks Jan. 24. "Thank you for sharing your expertise, and for taking time away from family and work to spend time with us in a collaborative effort to explore, better understand and identify relevant and useful takeaways for further analysis and action on this important topic."