Image
fotosipsak/Getty Images
U.S. – German Transatlantic Partnership Reflected at Marshall Center Alumni ONE in Prague
By Frank Lewis
Alumni Programs
George C. Marshall European Center for Security Studies
PRAGUE (Feb. 20, 2020) – The Marshall Center Alumni Program conducted its annual Alumni Outreach Networking Event for the Czech Republic Feb. 20.
The event, organized in close cooperation with the U.S. Office of Defense Cooperation, was held for the second time since 2018 at the American Center in Prague.  
A total of 42 alumni, Marshall Center staff and faculty, and senior German and U.S. Embassy representatives attended the meeting.
In true reflection of the Marshall Center's German-American partnership, both Ambassador Stephen B. King, U.S. Ambassador to the Czech Republic, and Ambassador Dr. Christoph Israng, German Ambassador to the Czech Republic, each gave opening  remarks at the event.

These highlighted statistics and accomplishments of the current 261 Marshall Center alumni from the Czech Republic and expressed support for the Marshall Center's varied security studies programs and regional initiatives.
Dr. Matthew Rhodes, Director of the Marshall Center's Area Studies Department, provided the keynote presentation on the topic of "U.S. – Central European Relations: Security, Economics and Political Dialogue."
In addition, Czech Police Lt. Col. Lukas Vilim, a Marshall Center Program on Cyber Security Studies and European Security Seminar-East alumnus, presented on his recently completed Alumni Scholar project detailing the challenges of police forces in the European Union in the fight against cybercrime to protect critical infrastructure.
The event also included a Marshall Center update and a networking reception. 
Marshall Center ONE events serve to strengthen and support the global Marshall Center alumni network, which is an integral part of the Marshall Center's mission and vision.
Alumni events also allow for an exchange of current information, provide an opportunity for alumni to update contact and career information, strengthen existing ties, and serve as a platform of collaboration for resolving current and emerging security issues.
Portrait image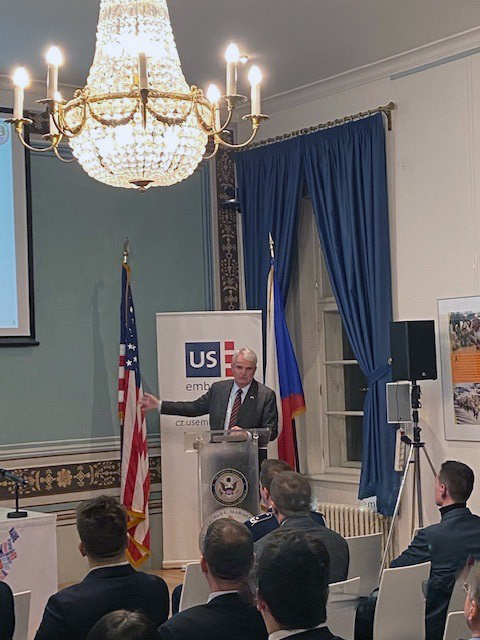 Courtesy Photo