Image

DoD photo by Karl-Heinz Wedhorn
Marshall Center Seminar Develops Strategies for State Influence, Strategic Communications in the Eastern Flank
By Christine June
Public Affairs Office
George C. Marshall European Center for Security Studies
GARMISCH-PARTENKIRCHEN, Germany (May 22, 2018) - Fifty-four mid- to senior-level officials from Europe, Eurasia and the U.S. focused on strategic communication and its importance to understanding state influence in "the age of post-truth," fake news and declining social trust during the European Security Seminar-East at the George C. Marshall European Center for Security Studies held May 14 to 18.
"It is clear that without addressing strategic communication and state influence, we can't understand the dynamics of relations between Russia and the West," said Dr. Andrew A. Michta, Dean of Marshall Center's College of International Security Studies, during his opening remarks May 14.
Very Important Issue
This one-week European Security Seminar-East is held for the third time at the Marshall Center, and it is a part of a series of seminars that include ESS-South and for the first time this year, ESS-North.
"We are a German-American partnership, and these seminars are increasingly a focal point of our respective governments – the German Ministry of Defense and the U.S. Department of Defense," said Prof. Dr. Ralf Roloff, Marshall Center's Deputy Dean for Resident Programs at the College of International and Security Studies, and the seminar director for ESS-East, ESS-South and ESS-North.
"ESS-East is about the influencing of strategic communication in the Eastern Flank by state actors, mainly Russia, but others as well, to influence political opinion to shape policy decisions," Roloff said. "It's a very important issue, because it's a threat to most of our countries, not just in the Eastern Flank, but also in Western Europe and the United States."
Portrait image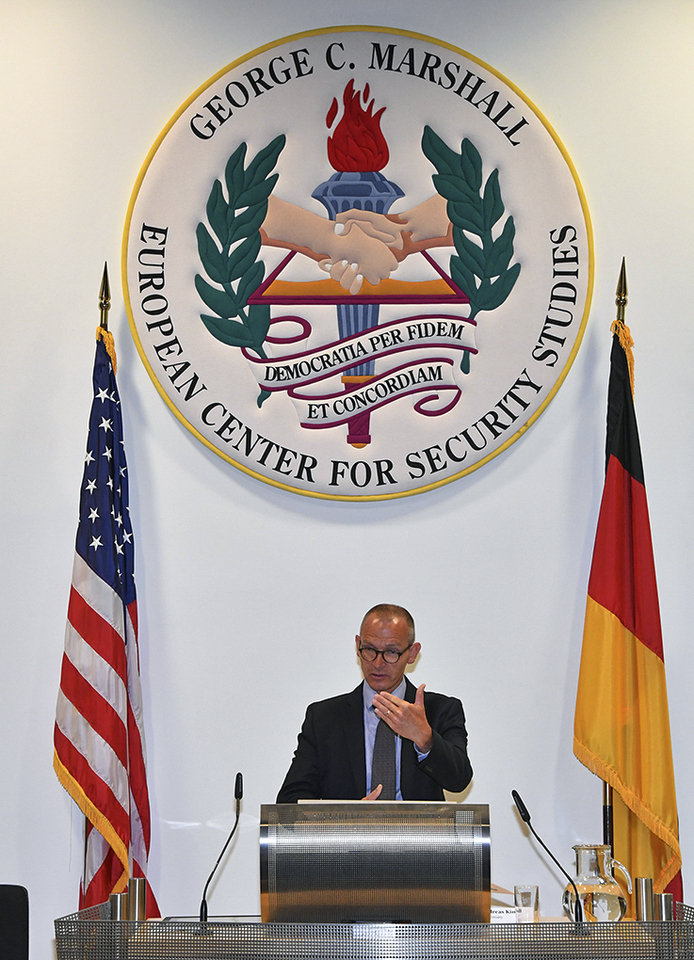 DoD photo by Karl-Heinz Wedhorn
The seminar covered four parts: understanding strategic communication in historical context and its recent evolution; Russia's efforts in different areas of influence, such as economic, domestic political processes of other states to include elections and media; reactions and building resilience in national and international frameworks; and, developing alternative policy recommendations.
These policy recommendations will be published as a conference report or what is called the Marshall Center Insights.
"These insights will be fed back through to the U.S. and Germany, and EU and NATO in order to inform strategy," Roloff said.
Wealth of Experience, Knowledge
Subject matter experts from the Marshall Center, adjunct professors and guest lecturers from national and international European and Euro-Atlantic security organizations presented on topics covering strategic communication in the Cold War, Russian strategic communication, influencing election processes, the media influence and impact, building resilience to eternal strategic influence, and building resilient societies and addressing external communication changes.
The participants also learned from each other.
Jana Lolic Sindelkova is the special envoy for Eastern Partnership Office of the Deputy Minister, Ministry of Foreign Affairs in the Czech Republic. She provides public diplomacy and liaison support for the minister with the six Eastern European partnership countries: Ukraine, Moldova, Belarus, Armenia, Azerbaijan and Georgia. "For me, this seminar really widened my opinion because of my fellow participants," Sindelkova said. "Our seminar participants were chosen well because we had many different perspectives, both a geographical and 'who do you work for' point of views."