Image
fotosipsak/Getty Images
Marshall Center Balkans 360 initiative holds international conference with partners in Zagreb
By Dr. Matthew Rhodes and Dr. Sebastian von Münchow
College of International and Security Studies
George C. Marshall European Center for Security Studies
ZAGREB (Dec. 16, 2019) – Marshall Center faculty members, Dr. Matthew Rhodes, Dr. Sebastian von Münchow, and Austrian Col. Günther Rozenits, traveled to Zagreb to take part in an international conference on Security Challenges for Europe Dec. 10 and 11.
The conference was conducted as part of the Marshall Center's Balkans 360 initiative in cooperation with the Zagreb-based RACVIAC Center for Security Cooperation and the office of the Konrad Adenauer Foundation in Croatia.
Balkans 360 was launched in March 2018 as a collaborative effort with partners to address rising concerns with security issues in Southeast Europe.
Since then, a series of workshops, panels, and seminars with U.S. and German officials, senior regional alumni, and other experts took place in Belgrade, Berlin, Brussels, Garmisch-Partenkirchen, and Skopje.
Portrait image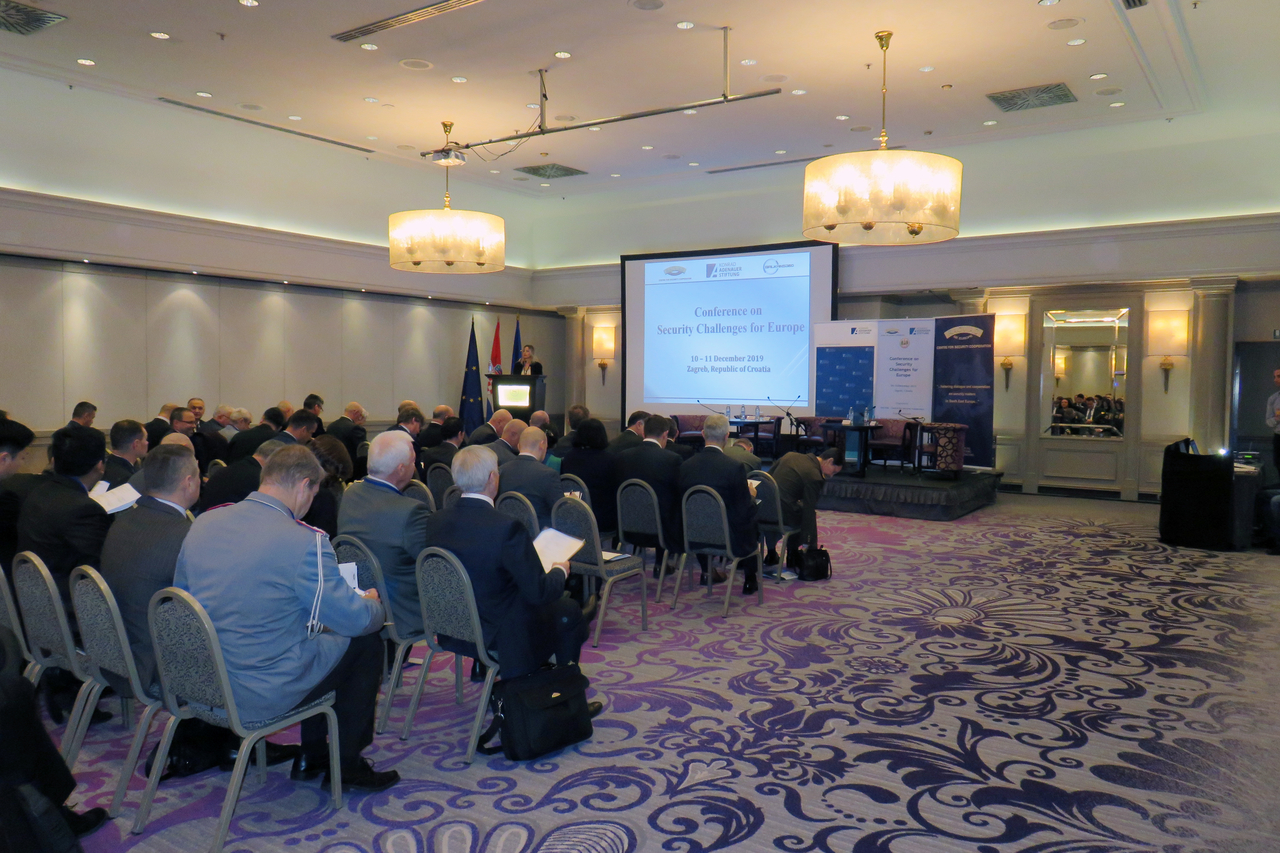 Courtesy Photo
These have highlighted U.S.-German engagement, Euro-Atlantic integration, economic development, rule of law and strategic communication as priority topics.
More than 100 representatives of Southeast Europe's security community and the Zagreb-based diplomatic corps attended the event.
U.S. Ambassador Robert Kohorst and German Ambassador Dr. Robert Klinke delivered opening remarks, and Croatian Ministry of Foreign Affairs State Secretary Zdravka Busic delivered the keynote address.
Their interventions and various following panels addressed issues such as Croatia's upcoming European Union Presidency, NATO Integration, further EU enlargement in the Western Balkans, 21st century geopolitics, 21st century 'soft' challenges and changes, regional cooperation, resilience, and NATO's London leaders' meeting.
"The conference presented a timely opportunity to share perspectives on a range of emerging challenges.  RACVIAC is a leading organization that embodies regional cooperation.  The partnership with its staff and the Adenauer Foundation was excellent, and I look forward to further work together, Rhodes said.
"I want to sincerely thank the George Marshall Center in Garmisch-Partenkirchen for having sent their academics here to foster the interesting debates of the last days," said retired Maj. Gen. Jeronim Bazo from Albania, current Director of the RACVIAC Centre for Security Cooperation in South Eastern Europe."  
He added, "I was just in Bavaria earlier this year to explore forms of cooperation. Now some months later we saw this event together with the Konrad Adenauer Foundation. For future events, I would like to go beyond the security and diplomatic community. We should invite students from relevant faculties to join us, because ultimately what we discuss is about their future in a safe Europe."
"Having in mind the seriousness of the subject, I was especially amazed by the open and frank discussions on how further EU enlargement could look like. Recent suggestions to remodel the process were emotionally debated," said von Münchow. "This also included the danger that outside powers could fill a vacuum in the Balkans if Western institutions lose their appetite for engagement.  Just like in previous Balkans 360 meetings, I did not only enjoy to speak, moderate and listen. I think all of us enjoyed the opportunity for informal talks and to deepen the ties of our network in Southeast Europe."