Image

Senior Executive Seminar (SES)
Introduction
The Senior Executive Seminar (SES) is an annual program tailored to meet the needs of national ministers, ambassadors, legislators, admirals, general officers and other senior government officials. The topic of SES changes with each iteration of the course in order to focus on the most critical and relevant contemporary security issues. Above all, it is an opportunity to build and strengthen professional networks and enhance global security cooperation.
Objectives
Provide participants with up-to-date analyses of contemporary threats to global security
Critically assess existing efforts to counter those threats
Facilitate discussion among senior decision-makers in order to identify best practices and find effective solutions
Establish networks based on mutual understanding and the shared political will to enhance global security in a coordinated and internationally supported manner
Identify emerging trends and likely future developments in order to anticipate and prepare in advance for challenges ahead
Methodology
SES takes place over four days. It involves a combination of high-profile speakers and panelists, including military and civilian officials and leading academic researchers from around the globe. Participants also have the opportunity to discuss the topics raised in the plenary in seminar groups, typically consisting of approximately 15 of their peers and facilitated by appropriately qualified members of faculty. All discussions take place under Chatham House Rule. This structure is designed to maximize interaction and the free-flowing exchange of ideas.
*The topic for SES in FY23 will be communicated at a later date.
Course Details
Location
George C. Marshall Center - European Center for Security Studies
Garmisch-Partenkirchen, Germany
How to Register
For application and deadline information, contact Marshall Center Registrar, your ministry point of contact, or the U.S. or German Embassy in your capital city.
Course Director
Portrait image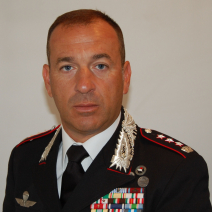 Colonel (ITA) Claudio Cappello, Carabinieri Corps
Strategic Security Studies