Image

DoD photo by Karl-Heinz Wedhorn
Portrait image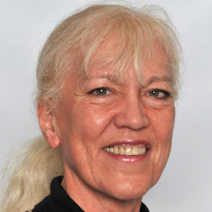 Peggy Garza
Department Chair
English Language Programs Department
Peggy Garza is the Chair of the English Language Programs Department at the Partner Language Training Center Europe (PLTCE). As the Department Chair, Ms Garza supervises the design, development, validation, execution and delivery of intermediate and advanced language  programs, such as English for counter-terrorism specialists, executive-level language enhancement for diplomats, graduate-level language testing seminars for language testers from NATO and partner nations, and professional development workshops for experienced English language teachers.  In addition, she has conducted outreach and consultations on English language teaching, testing, curriculum development and program evaluation in more than 25 nations
Prior to her current assignment, she worked at the Defense Language Institute English Language Center (DLIELC) located in Texas, USA, in various teaching, testing, and supervisory positions, including eight years as the Chief of the Curriculum Development and Testing Division.  
For twenty years, Ms. Garza has served as the Secretary or Associate Secretary for NATO's Bureau for International Language Co-ordination (BILC), NATO's only advisory body for language training and testing matters. She gives presentations at BILC conferences and seminars, leads BILC Working Groups, and participates on BILC teams providing assistance to BILC member nations on their training and testing concerns.  She is a long-standing active member of Teachers of English to Speakers of Other Languages (TESOL) and has given numerous presentations at TESOL Conventions on the topics of testing, curriculum development and teacher training. 
She has an M.A. in Teaching English as a Second Language from the State University of New York at Albany and an M.B.A. from the University of Texas in San Antonio.
Contact
bilc [at] marshallcenter.org