Image

Senior Executive Seminar Brings Together Top Brass From All Over the World
The George C. Marshall European Center for Security Studies held their final session for their Senior Executive Seminar, May 19, at the campus in Garmisch-Partenkirchen. The week-long event drew over 50 senior executives from more than 40 nations to explore concrete and actionable steps towards deepening current and new partnerships in a holistic fashion, both regionally and functionally, addressing the specific situations and requirements in selected regions, including the Black Sea, the Western Balkans, Africa and the Indo-Pacific. 
"SES is our pinnacle in-residence course, bringing together our most senior military, government civilian, and whole-of-society participants to work toward collaborative geo-strategic solutions to our regional, transnational, and global security challenges," said Marshall Center Director retired Maj. Gen. Barre Seguin. "Our participant countries' policymakers are then able to benefit from the strategic level dialogue and insight generated over the week-long seminar." 
The seminar is intended for senior government officials at one-star level or above (deputy and junior ministers, policy advisors, policy planners, security policy directors, ambassadors and flag officers), with bilateral or multilateral experience in the Euro-Atlantic area. Topics of discussion cover risks and challenges posed by strategic competition, emerging security challenges, and the protection of the rules-based international order. 
"It is unique in that it brings together ministers, ambassadors, parliamentarians, and military top brass from all over the world to Garmisch-Partenkirchen to compare notes and exchange views on pressing issues of international security," said Fritz Rademacher, professor of international and security studies at the Marshall Center. "This year, participants discussed the best ways of strengthening existing and forging new partnerships in the face of strategic competition and many other global challenges."
Assistant Secretary of Defense for International Security Affairs, Dr. Celeste Wallander, gave the keynote address on the first day highlighting how Russia's invasion was an assault on European and global security.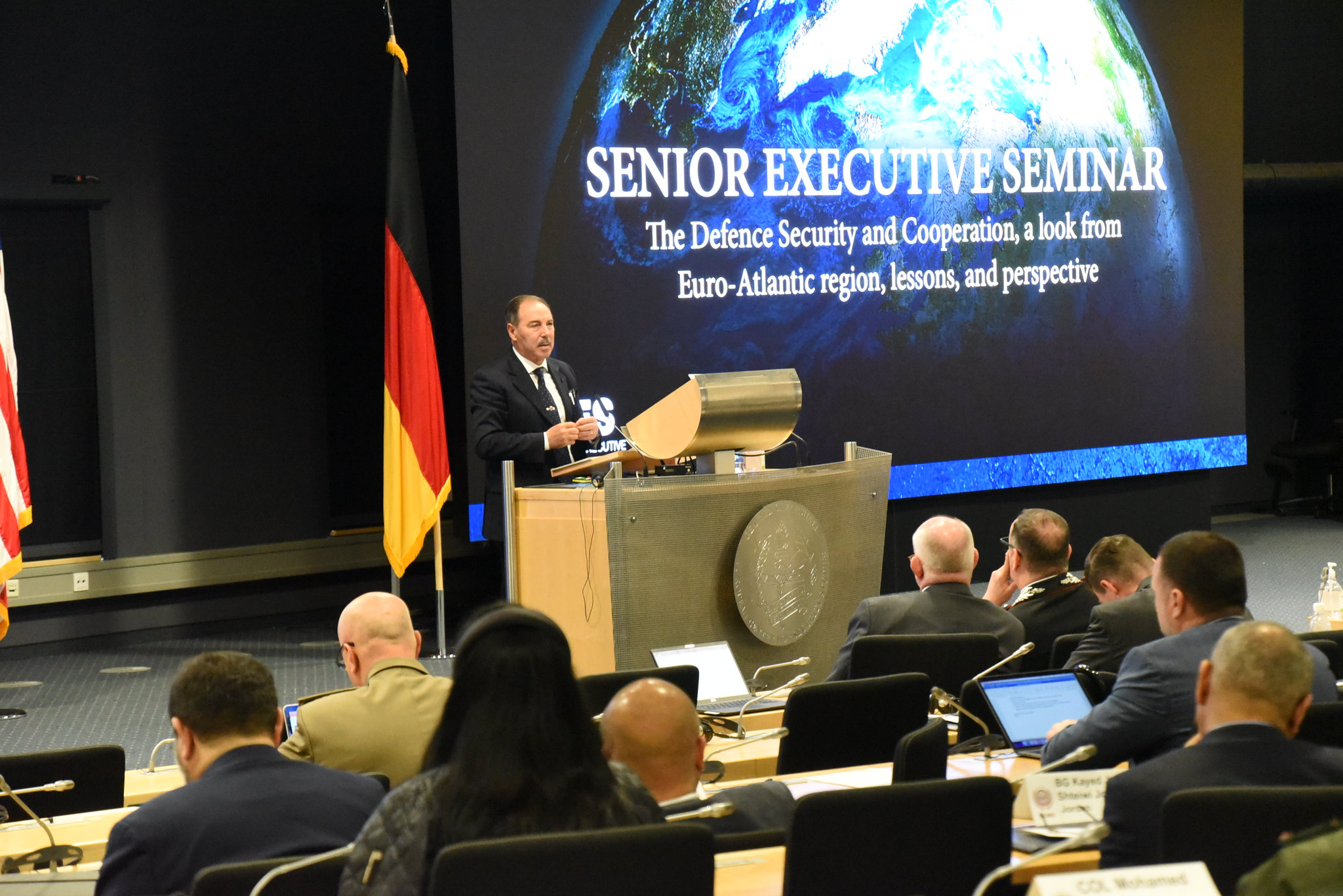 "Geopolitical shifts such as Russia's war in Ukraine will continue to challenge global security," Wallander said. "However, our unique strength is our shared partnership based on mutual support, respect and consent, as well as our shared interests and values." 
Addressing the senior executives with a tour d'horizon of defence, security, and cooperation in the Euro-Atlantic region, retired Gen. Salvatore Farina of the Italian Armed Forces also stressed the war's significant impact on NATO and the EU.
"The invasion of Ukraine is a natural evolution of a long-term chess game that Russia opened in the late 2000s," said Farina, underlining the necessity of long-term visions and integrated approaches between NATO and the EU for any future engagement to avoid the repetition of past mistakes. "NATO should not forget its other two pillars: crisis prevention and management, as well as cooperative security." 
Read more: Senior Executive Seminar (SES) | George C. Marshall European Center For Security Studies
The George C. Marshall Center for Security Studies, founded on June 5, 1993, is a renowned international security and defense studies institute. A bilateral partnership between the U.S. and Germany, it is a lasting cooperation that promotes dialogue and understanding among the nations of North America, Europe and Eurasia. In 2023, the Marshall Center marks its 30th anniversary, re-emphasizing its commitment to carrying Marshall's vision, an enduring legacy that continues through the security education initiatives of the Center.