Image
fotosipsak/Getty Images
NATO Experts Design New English Teaching Course at Marshall Center's Language Center
By Christine June
Public Affairs Office
George C. Marshall European Center for Security Studies
GARMISCH-PARTENKIRCHEN, Germany (July 28, 2015) – A graduation ceremony for 10 participants from eight countries attending the first NATO faculty development course to address the challenges of teaching English to military students was held here July 24 at the George C. Marshall European Center for Security Studies' Partner Language Training Center, Europe.
"There are many English teacher training courses, but this is the first one that is a faculty development seminar for military purposes that covers more than terminology," said Portuguese Marinha (Navy) Lt. Estela Parreira, head of the English Language Department at the School of Naval Technologies in Lisbon, and who was one of four facilitators for this inaugural course. "Those in the military not only speak and write differently than civilian students, but they also learn differently (from their civilian counterparts)."
The English Teaching Faculty Development Workshop was designed, developed and validated at PLTCE by a group of NATO experts from Bulgaria, Denmark, Hungary, Portugal, Slovenia and the United States, said Peggy Garza, chair of the English Language Programs Department at the Marshall Center's PLTCE, an officially-recognized NATO Partnership Training and Education Center that offers workshops and seminars for English teaching and testing professionals from NATO and partner nations.
The project began in 2014 after NATO's Bureau for International Language Coordination community conducted a needs analysis and identified the lack of professional development opportunities for English teachers who work in military language schools, Garza said.
"These teachers face unique challenges such as needing to understand military terminology and tasks, and teach in accordance with NATO standards," said Garza, who was also a facilitator for this workshop.
Garza said the focus of this workshop is on teaching speaking and writing for military purposes.
"It's an important topic not only because speaking and writing are difficult skills to teach, but also because the civilian faculty members sometimes feel out of their element with their military students," Garza said. "During the workshop, participants practiced communicative language teaching and active learning methods, and developed strategies for more effective teaching in a military context."  
Portrait image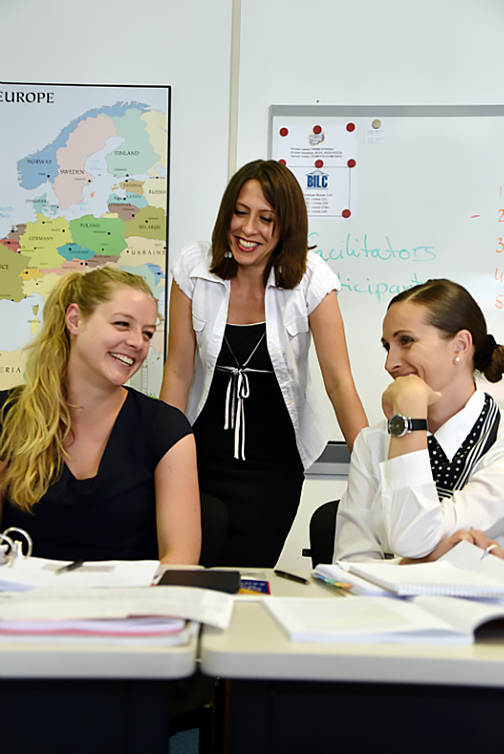 DoD photo by Christine June
This workshop was created just in time for participant, Manon Meeuwsen, who in April, was hired as an English language instructor for the newly-formed Ministry of Defense Language Center in the Netherlands.  She will be revising lessons plans for intermediate, upper-intermediate and advanced English courses when she gets back.
"Teaching writing and speaking to military personnel is a new challenge for me, and through this course, I was able to meet a lot of people from different countries who actually work for the military and many who are in the military, Meeuwsen said. "It was beneficial to hear some people's opinions and to see their military approach to teaching. That is something I am taking home with me, as well as some hands-on activities that I can use in the classroom to teach my students in a military context."
For Moldovan national army Lt. Col. Ludmila Ianovici-Pascal, head of the Language Center of the National Army Military Academy, this workshop is of "vital importance" for all NATO language specialists.
"We shared and learned different techniques and approaches, and all of this adds to our common goal of teaching English to our students," said Ianovici-Pascal, who has been teaching English in the military since 2004. "Both military and civilian teachers can benefit from this workshop."
Workshop participants were all experienced English teachers and were from: Armenia; Bosnia-Herzegovina; France; Georgia; Moldova; Netherlands; Tunisia; and, Ukraine.
PLTCE offers intermediate, advanced and specialized classroom instruction in 10 languages and dialects for about 400 U.S., NATO and Partnership for Peace military and civilian linguists each year.
The mission of the Marshall Center, as a vital instrument of German-American cooperation, is to create a more stable security environment by advancing democratic institutions and relationships; promoting active, peaceful, whole-of-government approaches to address transnational and regional security challenges; and creating and enhancing enduring partnerships worldwide.
For those who are interested in attending a Marshall Center resident program, call the Registrar's Office at +49 (0)8821-750- 2656/2530/2327 or 314-4402-656/530/327, or email registrar [at] marshallcenter.org.