Image

DoD photo by Karl-Heinz Wedhorn
Marshall Center, House Democracy Partnership Discuss Security Issues with Parliamentarians
By Christine June
Public Affairs Office
George C. Marshall European Center for Security Studies
GARMISCH-PARTENKIRCHEN, Germany (March 27, 2019) – Politicians from the Republic of Albania, Republic of Georgia, Kyrgyz Republic and Republic of North Macedonia attended a parliamentary exchange focused on the oversight of security sector institutions and current issues held March 18 to 22 at the George C. Marshall European Center for Security Studies here.
About 20 parliamentarians and distinguished guest speakers attended this first collaborative event with the House Democracy Partnership of the United States House of Representatives and the Marshall Center.
Distinguished speakers included: former Congressman Jim Moran; Dr. Ioan Mircea Pascu, the vice president of the European Union; and, Asher Hildebrand, the chief of staff for Congressman David Price, who is the HDP chairman.
The HDP is a bipartisan commission that works directly with partner countries around the world to support the development of effective, independent and responsive legislative institutions.
"We saw this as a true partnership opportunity because of the unique expertise of the Marshall Center and its own efforts in recent years to work with parliamentarians primarily from Europe and Central Asia on security sector issues," Asher Hildebrand said.
The Marshall Center is a 25-year-old German-American security partnership that has produced generations of global security professionals schooled in American and German security policies.
"In the last several years, the Marshall Center has focused on building capacities of legislative institutions in our partner nations, holding more than 20 events similar to this seminar," said retired U.S. Air Force Brig. Gen. Dieter Bareihs, the Marshall Center's U.S. deputy director, during his opening remarks.
Portrait image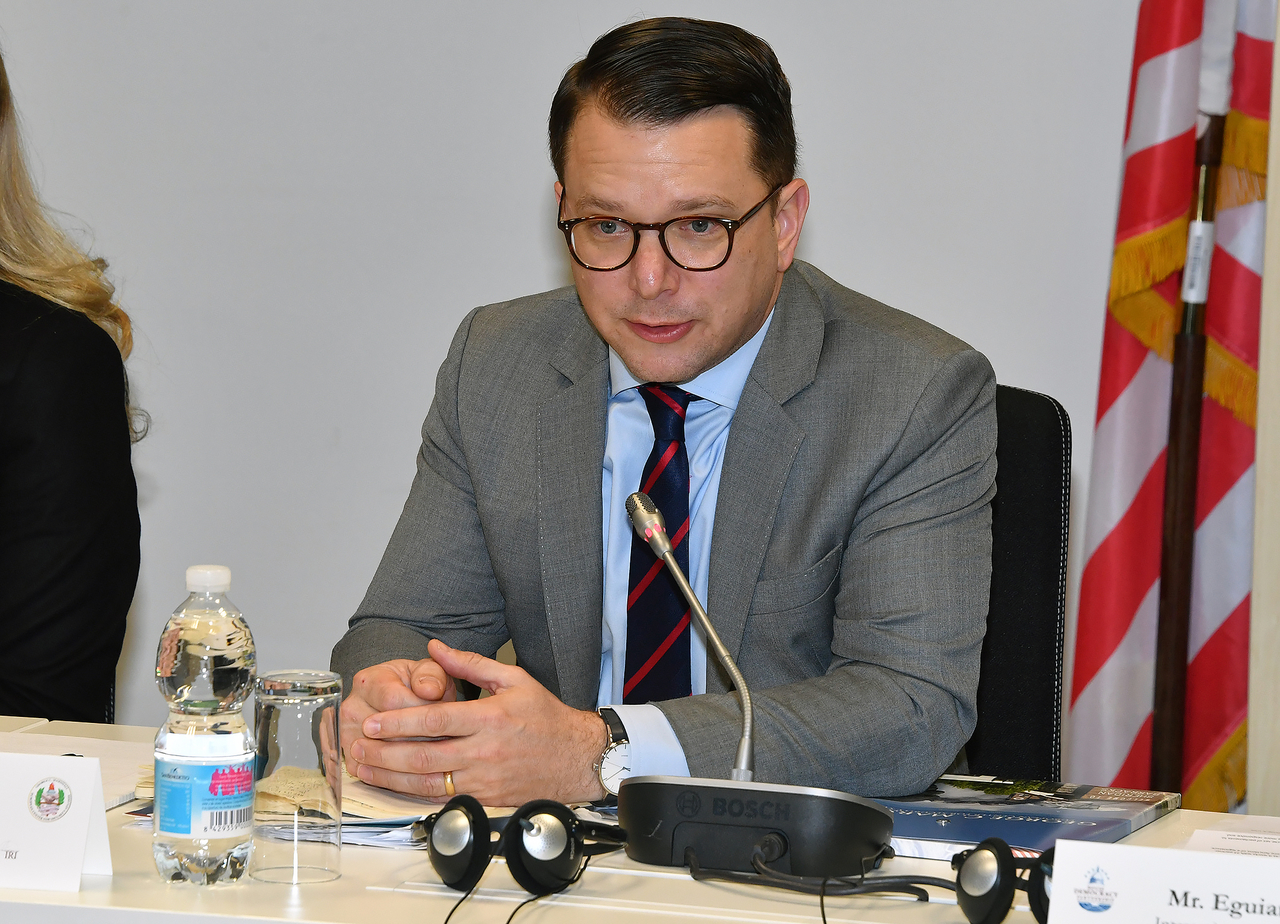 DoD photo by Karl-Heinz Wedhorn
In addition, the Marshall Center has collaborated with many officials from these countries who have attended resident courses. The Marshall Center's alumni network has more than 13,300 security professionals from 155 nations. Out of that number, 283 alumni are from Albania, 236 from North Macedonia, 442 from Georgia and 287 from Kyrgyzstan.
For this seminar, the Marshall Center and the HDP worked together with the National Democratic Institute and the International Republican Institute, the implementers of the House Democracy Partnership, to put together a program that addressed topics related to the parliamentarians' countries and region, as well as around the globe, said Dr. Valbona Zeneli, Marshall Center's strategic initiatives chair.
The main topics dealt with issues of parliamentary oversight of the security sector, such as the role of parliament, mechanisms for parliamentary oversight, bipartisan collaboration for effective oversight, holistic approaches to security sector, and effective use of budget authority in oversight, transparency and accountability.
"In our three-day exchange, we also discussed the changed strategic and geopolitical environment that has forced us to rethink concepts of security cooperation, economic interdependence and the prospects for continued European and Euro-Atlantic cooperation and integration," Zeneli said.
Hildebrand said that the seminar discussions produced many ideas from very specific reforms to procedures or committee processes to common transnational challenges such as organized cybercrime and misinformation campaigns.
"These are issues that we all have to work together both on a bilateral biases and through transnational organizations," he said. "There will be a number of follow-ups, and we see this as an initiation of the conversation that will continue in the coming months and years."
He added, "Democracy is always a work in progress. Whether it is the oldest or one of the world's newest, we all face common challenges, and we need to continuously strengthen and effectively safe guard our democratic institutions."