Image
fotosipsak/Getty Images
Marshall Center Hosts Cybersecurity Workshop in Uzbekistan
By Professor Phil Lark
Director, Program on Cyber Security Studies
College of International and Security Studies
George C. Marshall European Center for Security Studies
TASHKENT, Uzbekistan (Jan. 31, 2018) – The George C. Marshall European Center for Security Studies in cooperation with the U.S. Embassy Tashkent, Uzbekistan conducted a cybersecurity workshop on "Protecting Cyberspace: Best Practices in Cyberspace Strategy and Policy Development" in Tashkent, Uzbekistan Jan. 29 to 31.
This Uzbekistan information assurance and cybersecurity workshop brought together a group of 11 international experts from the European Union and the United States, to share their experience with employees, planners and officials of the Government of Uzbekistan. 
The aim of the workshop was to improve common understanding of risks, threats, challenges, and opportunities to better protect cyberspace for all citizens. 
Portrait image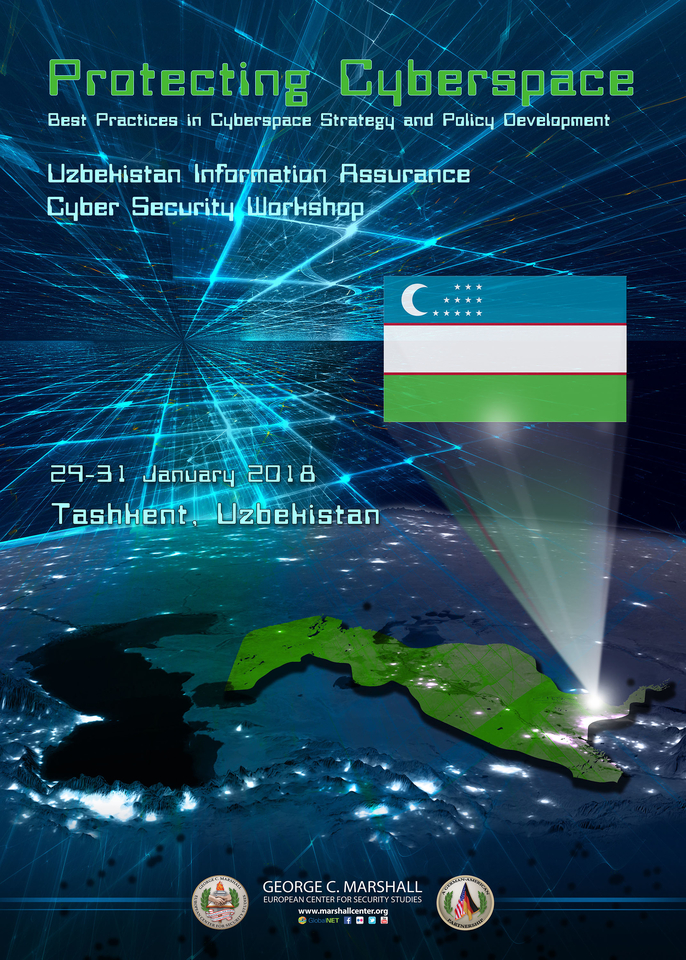 DoD graphic by Dr. Stan Jones
Ambassador Pamela Spratlen, U.S. Ambassador to Uzbekistan and Ambassador Günter Overfeld, German Ambassador to Uzbekistan, opened the workshop and emphasized in their statements, that in these uncertain times, cyber security is rising to the top of everyone's agenda and a proactive partnership approach is necessary to protect our future in an always-online digital world.
In the context of security cooperation, the Marshall Center working with the U.S. and the German Embassies in Tashkent have conducted an ongoing series of events to regularly address mutual transnational security challenges in Central Asia.  Enhancing cyber security benefit all nations, said Phil Lark, Marshall Center's director on Program and Cyber Security Studies.   
Since 2014, this is the fourth time that the Marshall Center has come to Uzbekistan to conduct a cyber security strategy and policy-focused workshops for representatives of a broad variety of ministries and agencies of the Government of Uzbekistan.
The workshop served as a forum to address international and multi-stakeholder security concerns in the cyber domain.  Participants examined the current mission assurance security challenges, and discussed practical and pragmatic ways to improve regional and international cooperation to effectively counter cyber threats.
"This advanced workshop addresses enhancing the protection of cyberspace," Lark said. "In particular, we discussed best practices in combatting cybercrime, cyberspace national policy and incident response. 
"The workshop will assist Uzbek national leaders in making informed, whole-of-government decisions on challenges relating to critical aspects of cyber security," he added.