Image

Marshall Center Holds Ohrid Alumni Forum
The George C. Marshall European Center for Security Studies held their annual Ohrid Alumni Forum in North Macedonia Aug. 26-28 with 40 participants from 10 different countries attending. 
The forum was opened by President of North Macedonian Alumni Association, Biljana Popovka, North Macedonia State Secretary in the Ministry of Defense, Valdimir Anchev, German Defense Secretary, Otto Graf, and Marshall Center Director, retired Maj. Gen. Barre Seguin.
"Balkan countries are on the road to NATO and the EU," said Anchev. "North Macedonia has been a member of NATO for three and a half years, and hope in the near future to become a member of the EU."
The forum's topic was "NATO and Security Cooperation in the Western Balkans – Challenges and Lessons Learned," with workshops discussing questions related to NATO membership aspirations by Balkan countries.
"Balkan Countries are facing the same challenges at the rest of the Euro-Atlantic community, and it's important to face them together. Discussion has emphasized the need for regional cooperation and sharing experiences," said Popovska.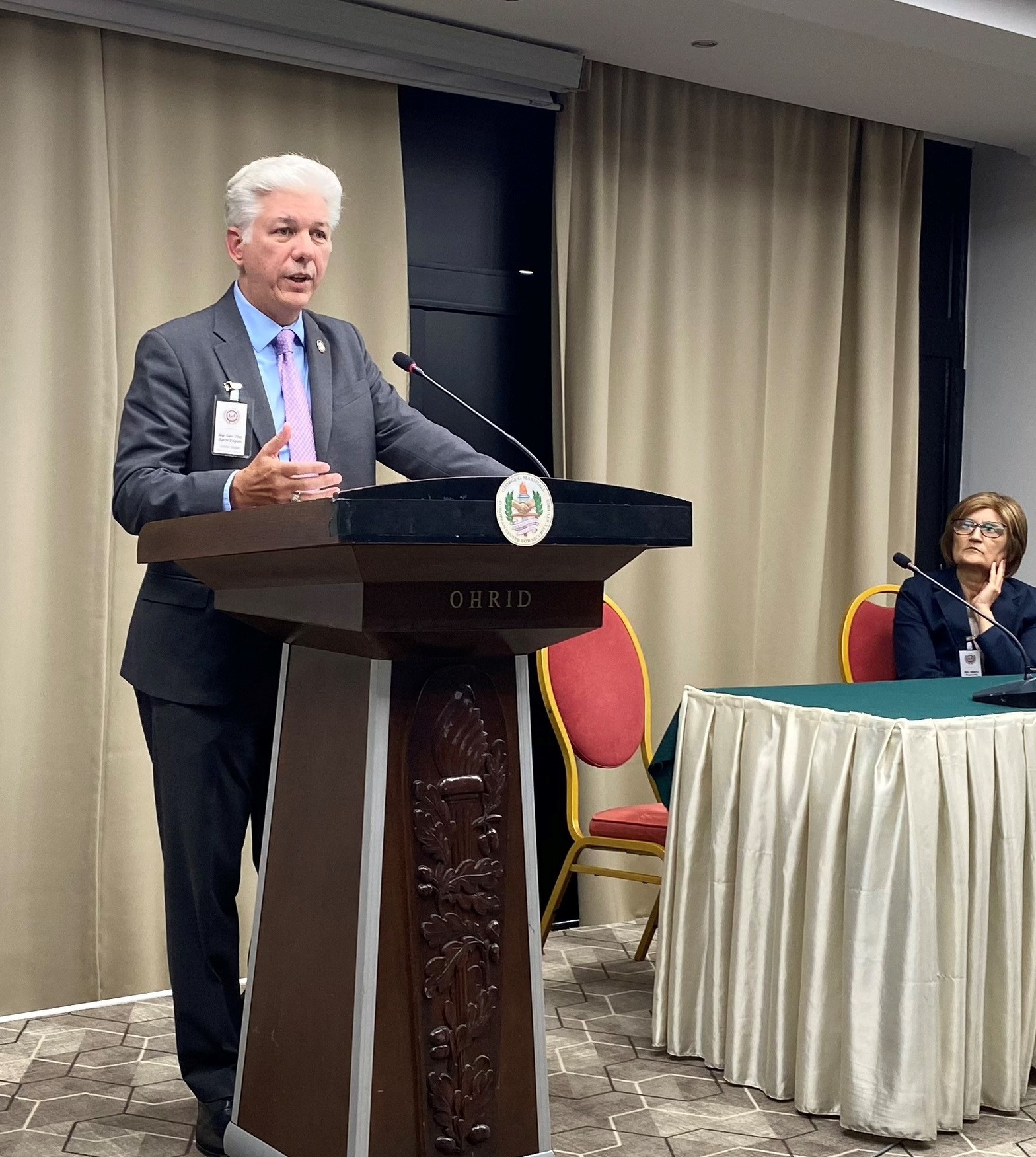 Sessions included experts from North Macedonia, Serbia and Kosovo analyzing ways to strengthen cooperation to counter radicalization, terrorist and extremist threats.
Later in the sessions, panels of experts from Croatia, Serbia, Italy, Albania and Germany shared their insights on energy security within a NATO and EU framework.
"Without doubt, an outstanding conference with very substantial discussions," remarked Marshall Center Professor Dr. Sebastian von Münchow, who presented and led seminar panels. "What I find equally worth mentioning is that workshop participants whose countries share a difficult past, have collaborated in the past three days with ease and a joint vision for a brighter future in the wider Transatlantic space."
"This security forum has been a tremendous success," said Seguin. "It has further enhanced our trusted global alumni network by developing shared understanding and seeking collaborative regional solutions on complex security challenges…You are the manifestation of the vision we strive to achieve at the George C. Marshall Center, our greatest outcome, a trusted Alumni network."
The George C. Marshall Center for Security Studies, founded on June 5, 1993, is a renowned international security and defense studies institute. A bilateral partnership between the U.S. and Germany, it is a lasting cooperation that promotes dialogue and understanding among the nations of North America, Europe and Eurasia. In 2023, the Marshall Center marks its 30th anniversary, re-emphasizing its commitment to carrying Marshall's vision, an enduring legacy that continues through the security education initiatives of the Center.