Image

U.S. Department of State
Marshall Center Alumni Networking Event Coincides with Vice President Harris Visit to Poland
By Frank Lewis, Alumni Relations Specialist
College of International Security Studies
George C. Marshall European Center for Security Studies
WARSAW, Poland (Mar. 17, 2022) – Nearly 50 Polish Marshall Center alumni and other participants attended an Alumni Outreach Networking Event in Warsaw, Poland on Mar. 10. The event was held at the residence of U.S. Ambassador to Poland, Mark F. Brzezinski, and was closely coordinated with both U.S. and German embassies in Warsaw.
A distinguished panel of speakers discussed the topic of "NATO's Eastern Flank: Safeguarding the Alliance, Confronting Current Threats and Promoting Core Values."
"Because of COVID-19 and the resulting travel and event restrictions, this was the first in-person event for Marshall Center alumni in Poland since June 2019. In addition, this was our first meeting in Poland at a Chief of Mission residence since 2015 and we are immensely grateful to Ambassador Brzezinski for welcoming us into his home," said Frank Lewis, alumni relations specialist and event co-organizer. 
Brzezinski opened the event and provided welcoming remarks after attending a meeting with U.S. Vice President Kamala Harris with his staff at the U.S. Embassy in Warsaw, then returning back to his residence to join the program.
The Vice President was on a scheduled trip to Poland and Romania.  Earlier in the day Harris met with Polish President Andrzej Duda, where at a news conference she announced, "I want to be very clear. The United States and Poland are united in what we have done and are prepared to help Ukraine and the people of Ukraine; full stop." 
According to Brzezinski, Harris and Duda displayed "an absolute unity of purpose and shared understanding of the threat…and that is also what the Marshall Center is about."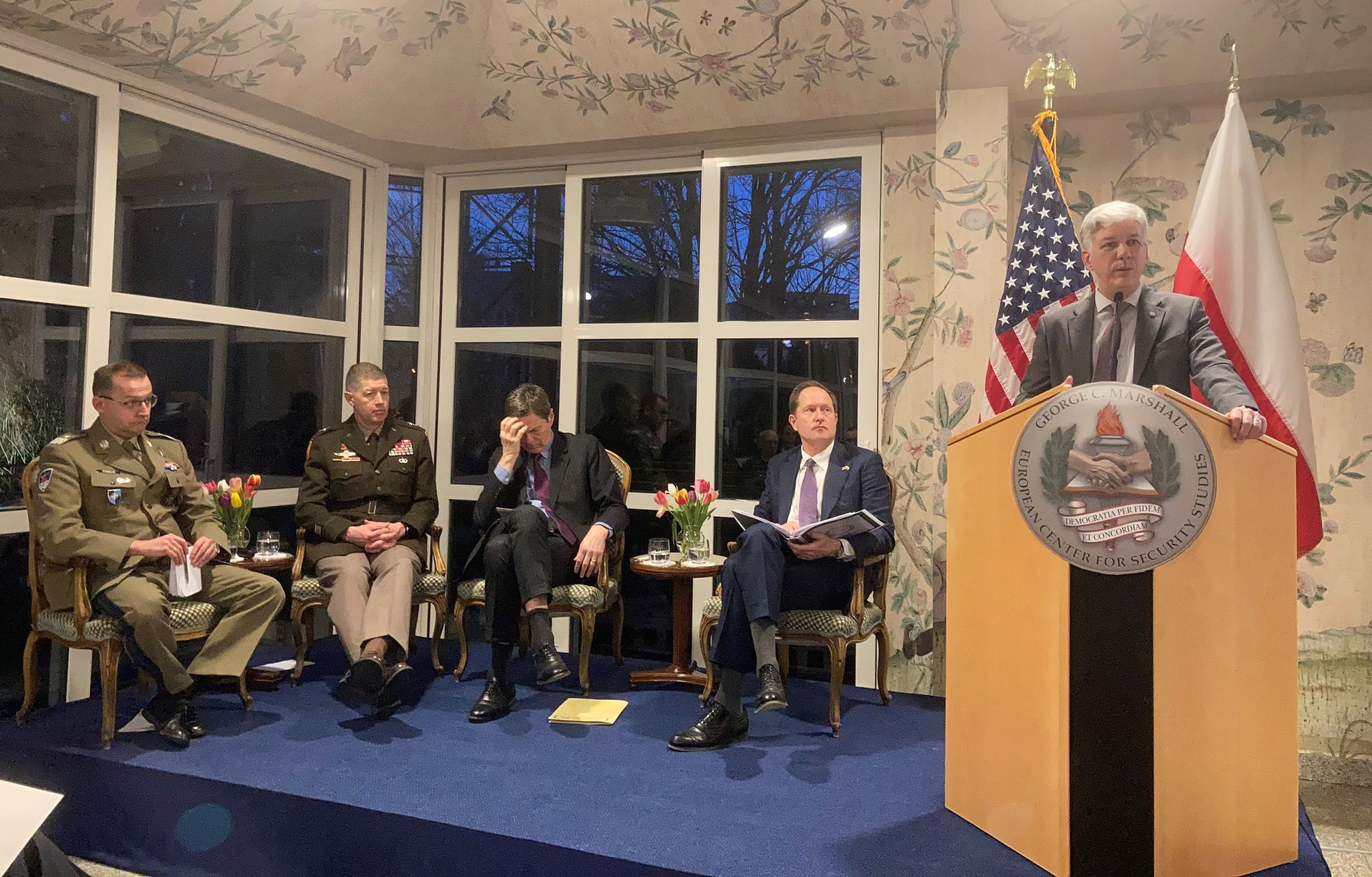 Photo by Frank Lewis
The Marshall Center Director, retired Air Force Major General Barre Seguin, provided opening remarks and recognized the collective and collaborate security relationship of Poland, the United States and Germany.  Further, he pointed out the historical significance of the moment, stating "We find ourselves in the midst of a historic cataclysmic geo-strategic shift that few in this room could have predicted possible in Europe in 2022."  He also thanked attending participants for being part of the Marshall Center's trusted global network of security professionals and for remaining both connected and engaged.
The main panel of the evening's discussion included Brzezinski, German Ambassador Dr. Arndt Freytag von Loringhoven, U.S. Army National Guard Major General Joe Jarrard, Deputy Commander, U.S. Army Europe and Africa, and Polish Brigadier General Tomasz Kowalik, Deputy Chief of Staff Support, NATO Multinational Corps Northeast. The event was moderated by Dr. Andrew Michta, Dean of the Marshall Center's College of International and Security Studies.
In his panel remarks von Loringhoven applauded Poland's handling of refugees from Ukraine and expressed his admiration for the generosity of Polish society and individuals in supporting and housing Ukrainian refugees. He also addressed Chancellor Scholz's momentous speech in the Bundestag on Feb. 27 and equated it to one of three recent historic moments in German politics that required a 180-degree shift in policies (the others being Chancellor Merkel's 2015 policy change on accepting refugees and Germany's phasing out of nuclear power).
Jarrard mentioned his visit to Poland several weeks ago to meet with the Polish General Staff and the Chief of Defense that reconfirmed the strength of the existing U.S.-Polish military relationship.  He also expressed his support of the Polish border guards and military along the eastern border and recognized the established relationships built over time (especially the last 5 to 6 years) that allowed the "knocking down" of procedural and political walls and expeditious decision-making. Jarrard also reflected on established institutions and structures that allowed the build-up of existing battle groups to protect NATO's eastern flank as a testament to both Poland and "our allies in the Baltics."
Finally, Kowalik stressed Poland's geographic location and its borders with Russia, Belarus, and Ukraine placing a significant strain on the country and the Polish armed forces. He also pointed to the recent border crisis with Belarus that continues to engage a large portion of the Polish armed forces in addition to force posture requirements toward the Southeast and the simultaneous need to support the Baltics. He also stated the Feb. 24 trigger of NATO Article 4 by eight countries simultaneously (Bulgaria, the Czech Republic, Estonia, Latvia, Lithuania, Poland, Romania and Slovakia) as unprecedented in NATO history.
The event also included an extensive question and answer session with the alumni audience as well as a brief Marshall Center Alumni Programs update.
"Since the Marshall Center is a unique German-American partnership and trusted global network promoting common values and advancing collaborative geostrategic solutions, we are greatly honored by the support of both the U.S. and German Embassies in Warsaw, their contributions, and ongoing engagement with Poland," said Christopher Burelli, Director, Marshall Center Alumni Programs.
 Alumni Outreach Networking Events are part of the Marshall Center's efforts to connect with alumni, strengthen and support our network, encourage participation in future Marshall Center programs, and to discuss important, relevant, and timely security issues. Find more information at www.marshallcenter.org
U.S. Department of State