Image
fotosipsak/Getty Images
Hungarian Alumni, Marshall Center Host Annual Meeting in Budapest
By Frank Lewis
Alumni Programs
George C. Marshall European Center for Security Studies
BUDAPEST (Nov. 18, 2019) - The Marshall Center Alumni Association of Hungary and the George C. Marshall European Center for Security Studies, in close cooperation with both U.S. and German embassies in Budapest, conducted a joint annual meeting and Outreach Network Event Nov. 18 here.
 For the fifth consecutive year, the International Law Enforcement Academy-Budapest offered its facilities and hosted the meeting. 
Thirty-four alumni, Marshall Center staff and faculty, and senior German and U.S. Embassy representatives attended the meeting.
Distinguished speakers included Ambassador Ferenc Bosenbacher, president of the Marshall Center Alumni Association of Hungary, Marc Dillard, deputy chief of Mission, U.S. Embassy, Klaus Streicher, deputy chief of mission at the German Embassy, and Ambassador Eszter Sandorfi, director of the North American Department of the Hungarian Ministry of Foreign Affairs and Trade. 
Portrait image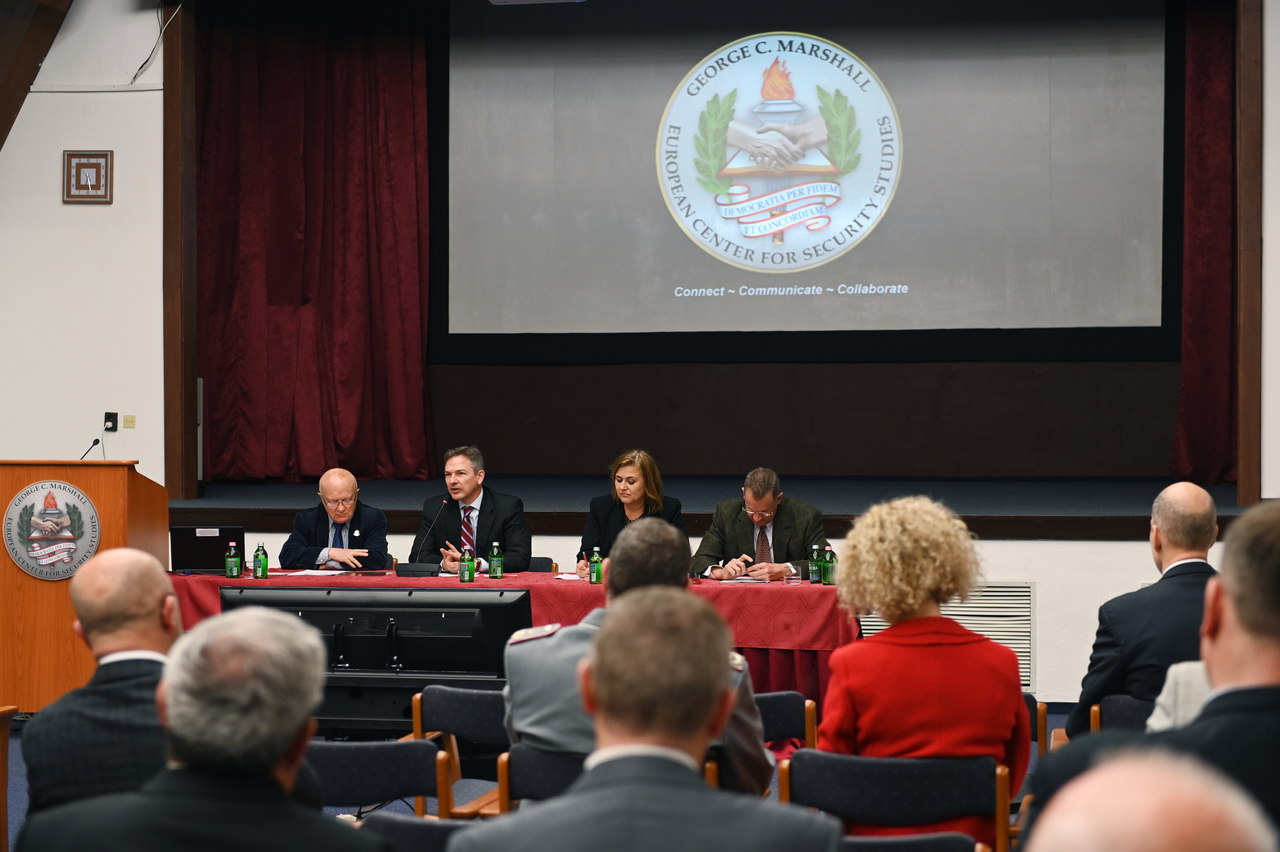 Courtesy Photo
Dr. Matthew Rhodes, director of the Marshall Center's Area Studies Department, provided a presentation on the topic of "2020: A Breakthrough Year for the Western Balkans?."
Rhodes also provided information on the Balkans 360 initiative, which is a collaborative project between the Marshall Center and the German Marshall Fund of the United States that seeks to "strengthen mutual understanding and capacity for cooperative approaches to address current and emerging challenges to regional security."
The event also included a Marshall Center update and a networking segment. 
"Marshall Center ONE events serve to strengthen and support the global Marshall Center alumni network, which is an integral part of the Marshall Center's mission and vision," said Chris Burelli, director of Marshall Center's Alumni Programs.
He added, "Alumni events also allow for an exchange of current information, provide an opportunity for alumni to update contact and career information, strengthen existing ties, and serve as a platform of collaboration for resolving current and emerging security issues."