Image

Black Sea Alums Hold Forum To Identify Challenges to EU Membership
The George C. Marshall European Center for Security Studies finished their last session of the Black Sea Regional Alumni Forum held in Tbilisi, Georgia, Nov. 14-16. This annual event, now in its 9th year, drew nearly 50 alums from the Black Sea region for two days of intense analysis and discussion to identify challenges facing Georgia, Moldova and Ukraine as they pursue European Union membership. 
 "At the Marshall Center, our mission is to educate, engage and empower security professionals like yourselves," Marshall Center Director retired Maj. Gen. Barre Seguin during his opening remarks. "You're part of our 30-year tradition and our greatest outcome. We believe in creating a community of trusted global partners who share common values and seek collaborative solutions to geostrategic challenges – just like what we're doing here." 
The forum comes days after the European Commission, the executive arm of the EU, announced its recommendation to award EU candidate status to Georgia. Additionally, they recommended that accession negotiations be opened for Ukraine and Moldova. The final decisions will be made by the 27 EU members in December. These recommendations come as part of the EU's 2023 Enlargement Package, an assessment of the state of play for the Western Balkans and Türkiye.
In his presentation, Prof. Dr. Ralf Roloff, acting dean at the Marshall Center, spoke from the EU perspective. After detailing criteria for accession, he pointed out an important question that the Council and its members asked themselves: What does it cost the EU if it enlarges? For instance, Roloff said, in terms of the political, economic and geostrategic aspects. Just as important, he said, is the question, what does it cost the EU if they don't enlarge?
Back in 2014, Georgia, Moldova and Ukraine signed Association Agreements with the EU. This agreement brought these Black Sea states closer to the EU, accelerating democratization and modernization. Russia expressed concerns about the Association Agreement, viewing it as an attempt to expand the European Union's "sphere of influence." Although specific factors in each country limited the accession progress, Russia's invasion of Ukraine in February 2022 led to the EU reexamining their membership policy. 
Consequently, these countries have come under increased pressure to make the internal policy changes required for EU membership. The changes have been made more difficult by Russia's use of hybrid tactics to destabilize the countries in an attempt to force them to abandon their membership aspirations. Since other EU members in the region have faced these challenges, the forum explored how they overcame them in order to improve the ability of Georgia, Moldova and Ukraine to become EU members.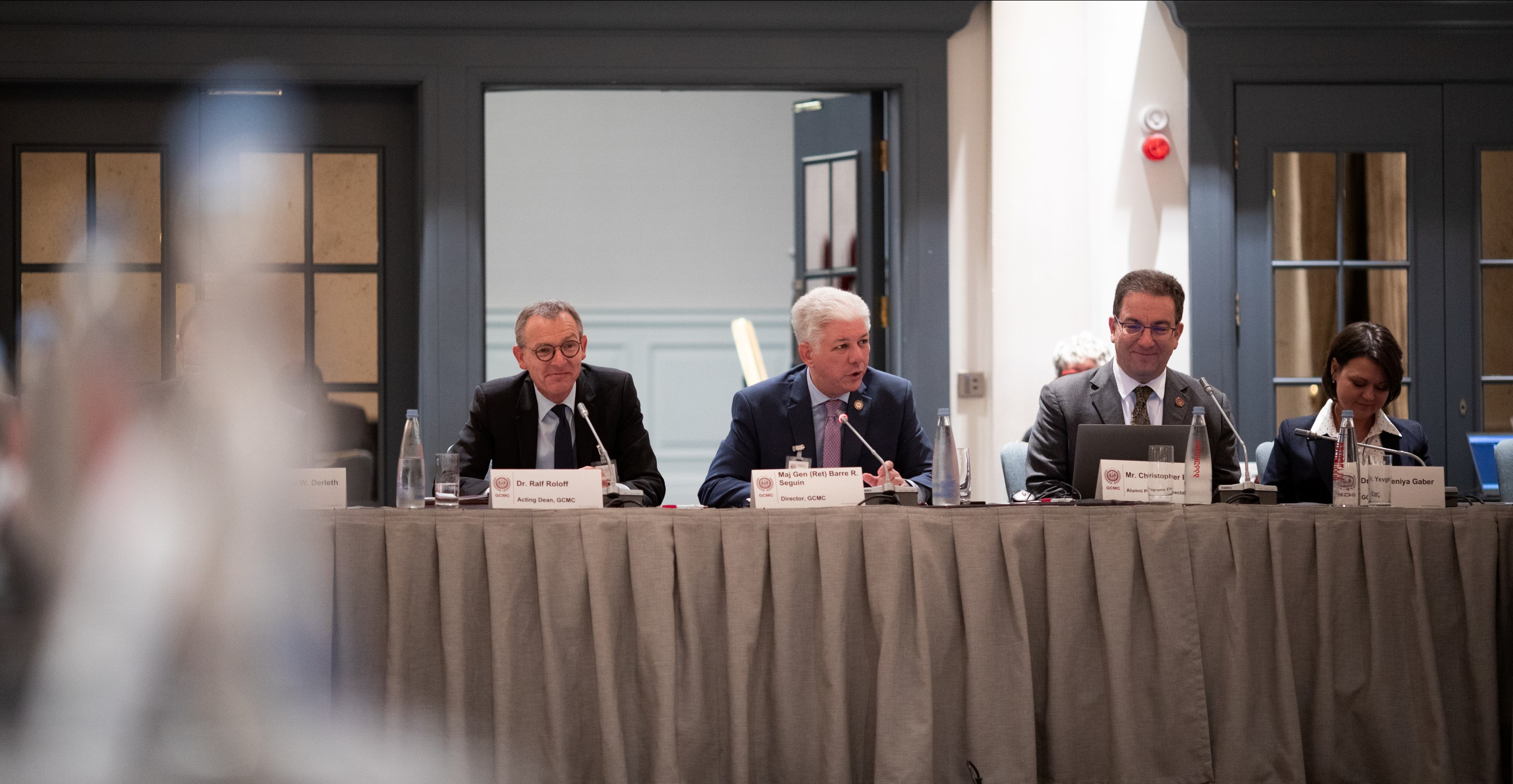 Alums from Bulgaria, Greece and Romania gave presentations on the challenges their countries faced when joining the EU and how they were able to overcome them. The latter country representative, Simona Spinaru, Minister Plenipotentiary, had some encouraging words to share with her fellow Black Sea alums.
"In the end, you will see it worth all the nights spent in the office. At least for me – a Romanian diplomat – all the efforts that I have done for my country to be able to be part of the community of democracies came back multiplied."
She cautioned them to have patience, reminding them of Romania's efforts spanning from 1995 to 2007.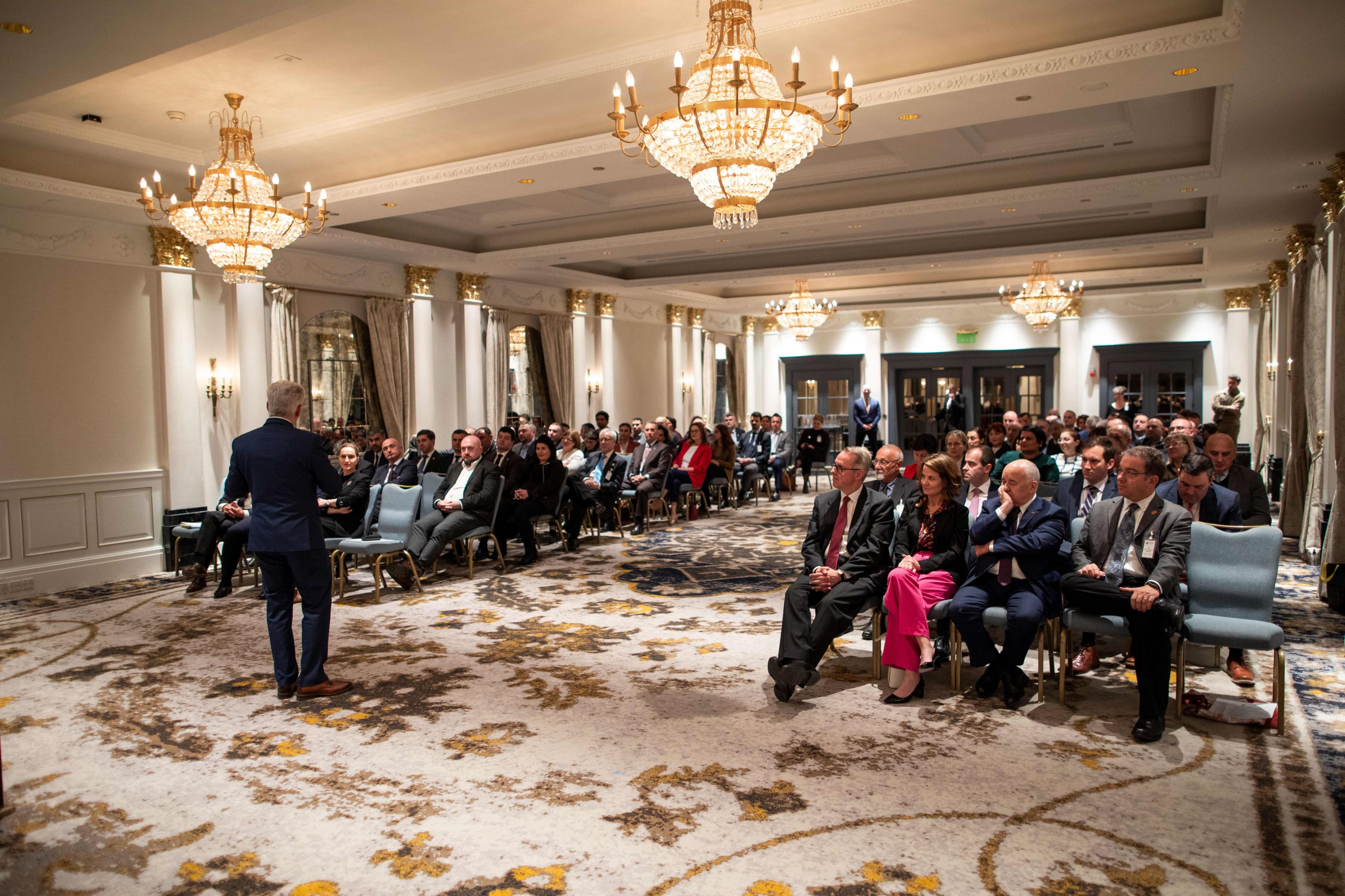 "The hardest work starts now. We spent 16 years to learn the language of democracy, freedom, rule of law and human rights protection," Spinaru said. "We are still learning."
"The real strength of this forum is the experience of countries represented here," Seguin said to the participants. The work that goes into this process requires a concerted effort both from these nations and from neighboring and partner nations, including those at the forum. "Thank you," he said, "for doing something bigger than yourself and helping us achieve our mission."
Directly following the forum, over 60 Marshall Center alums gathered together for an outreach networking event. Speakers included First Deputy State Minister Lasha Darsalia, First Deputy Defense Minister Lila Chikovani, Deputy Minister of Internal Affairs Aleksandre Darakhvelidze, U.S. Amb. Robin Dunnigan, German Amb. Peter Fischer, as well as GCMC's own Director Barre Seguin and Prof. Dr. Ralf Roloff.