Image

Senior Executive Seminar (SES)
Introduction
Senior Executive Seminar (SES) will provide a timely opportunity for U.S., German and other Allied and partner decision makers to explore concrete and actionable steps towards such new partnerships in a holistic fashion, both regionally and functionally. To this end, the Seminar will address the specific situations and requirements in selected regions, including the Black Sea, the Western Balkans, Africa, and the Indo-Pacific. This will encompass political, diplomatic, informational, economic and military elements so that the key security issues of our time and their regional and international impacts can be effectively approached.
Objectives
Assess the transatlantic community's strategic challenges and opportunities.
Identify areas of commonality and divergence and understand the respective underlying interests.
Develop concrete and actionable ways to deepen existing and forge new partnerships in and for an era of strategic competition and global challenges.
Help shape transatlantic and partner agendas to this end.
Participant Profile
The Senior Executive Seminar (SES) is intended for senior government officials at one-star level or above (deputy and junior ministers, policy advisors, policy planners, security policy directors, ambassadors and flag officers), with bilateral or multilateral experience in the Euro-Atlantic area. Participants should be conversant at the strategic level and familiar with the risks and challenges posed by strategic competition, emerging security challenges, and the protection of the rules-based international order.
Participants should reflect a "Whole of Society" approach to security challenges and opportunities.
Language Requirement
The Senior Executive Seminar (SES) is offered in English only and the required ECL is 80+ or the equivalent level ALCPT, NATO STANAG, TOEFL, CEFR or university courses.  If ECL testing is not possible given COVID-19 restrictions, GCMC can waive the ECL and will accept verification of oral proficiency from the Embassy.
Event Details
Date
May 13, 2024 - May 17, 2024
Location
George C. Marshall Center - European Center for Security Studies
Garmisch-Partenkirchen, Germany
Event Course Director
Portrait image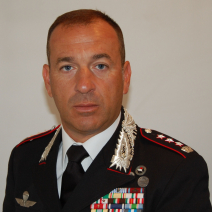 Colonel Claudio Cappello, Carabinieri Corps
Strategic Security Studies