Image

Portrait image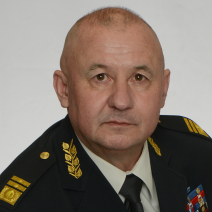 Major General (SL) Miha Škerbinc, Slovenian Armed Forces
Slovenian Senior Military Representative and Professor
Security Studies
Areas of Expertise
Military Strategy
Operational and Tactical Arts and Science
NATO and NATO -EU Relations
National Security and Crisis Management
Strategic Competition and Global Strategic Trends
Hybrid Warfare
Academic Degrees
Master of Science in National Resource Strategy, National Defense University, Washington D.C., USA.
Bachelor of Arts (Defense Studies), Faculty of Social Sciences, Ljubljana, Slovenia.
Major General Miha Škerbinc joined the faculty of the Marshall Center in March 2023 on secondment from the Slovenian Ministry of Defense and the Slovenian Armed Forces.
MG Miha Škerbinc was commissioned as an officer in 1985 and entered active duty in 1991. He graduated from the Air Defense Reserve Officer School (YU), the Command and Staff School (SVN), the Command and General Staff College (USA), and the Industrial College of the Armed Forces, NDU (USA).
He held various command and staff positions: Commander of the Air Defense Platoon, Commander of the Counter-Terrorist Squad, Commander of the Military Police Squad, Chief of the S5 74th Armored and Mechanized Battalion, Executive Officer of the 10th Motorized Battalion, Chief of Staff of the 1st Brigade, Commander of the 20th Motorized Battalion, Commander of the 10th Motorized Battalion, DCOS OPS/Acting COS of the Force Command, Chief of Doctrine and Development Centre, Deputy Staff Director, SAF General Staff.
Downloads
Major General Miha Škerbinc Biography