Image

Portrait image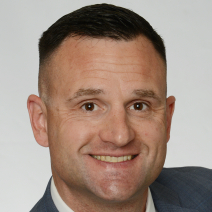 Lieutenant Colonel Daniel C. Love, United States Marine Corps
Military Professor
Transnational Security Studies
Areas of Expertise
National Security Studies of Europe and Eurasia
Ukraine
Security of the Asia Pacific
International Relations
Strategic Military Competition
Academic Degrees
Master of Arts with Distinction, Security Studies Europe and Eurasia, Naval Postgraduate School
Master of Advanced Studies in International Affairs and Security of the Asia Pacific, University of California San Diego
Bachelor of Arts, International Affairs, University of Mary Washington
Lieutenant Colonel Danny Love joined the Marshall Center in June 2023 and is a Military Professor in the College of International and Security Studies. He currently serves as the Deputy Course Director for the Program on Countering Transnational Organized Crime (CTOC) and the Program on Terrorism and Security Studies (PTSS).
Lieutenant Colonel Love has served over 15 years in the United States Marine Corps as a Logistics Officer, a Foreign Security Forces Advisor to the Afghan National Army, a Eurasia Foreign Area Officer with Ukrainian language coding, and a Northeast Asia Regional Affairs Officer. His duty assignments have included service with Combat Logistics Battalion 31, 31st Marine Expeditionary Unit in Okinawa, Japan; Regimental Combat Team 5 in Helmand Province, Afghanistan; 5th Marine Regiment in Camp Pendleton, California; Recruit Training Regiment, Marine Corps Recruit Depot San Diego, California; US Marine Corps Foreign Area Officer attached to the US Embassy in Kyiv, Ukraine; and Marine Aircraft Group 11 in Miramar, California.
Lieutenant Colonel Love holds the following occupational specialties in the United States Marine Corps: Eurasia Foreign Area Officer (8242), Ukrainian Language (2794), Northeast Asia Regional Affairs Officer (8223), Foreign Security Forces Advisor in combat operations (0571), Expeditionary Logistics Instructor (0477), and Logistics Officer (0402). His personal awards include the Navy and Marine Corps Commendation Medal (five awards) and the Humanitarian Service Medal.
Downloads
Lt Col Daniel Love Biography