Image

DOD graphic by Zachary Sherman
Program on Terrorism and Security Studies (PTSS)
Course language: English
The Marshall Center's PTSS develops intellectual interoperability and common understanding regarding the transnational nature of terrorism, improves partner capacity to develop and execute international com-batting terrorism strategies and builds and sustain a network of security professional to combat terrorism. This four week course is designed for government officials, police and military and security service officers employed in mid- and upper-level leadership positions in counter-terrorism organizations throughout the world. The course focuses on methods to help a state effectively combat terrorism while adhering to the values of a democratic society. Participants develop common grounds of knowledge, understanding, and 'physical' contacts forming an "intellectual interoperability" that transcends national borders and enables national security officials to cooperate and coordinate within their nations and internationally.
The four-week program, offered two times per year, strengthens understanding of the motivations, methodologies and capabilities of modern terrorist groups as well as developing understanding and familiarity with the wide range of capabilities available to  a nation state to defeat or minimize this threat. The PTSS intent is to enable individual nations to successfully cooperate and coordinate efforts to strengthen and sustain an international combating terrorism effort and develop habits of cooperation and collaboration. Specifically, the PTSS:
Enrolls participants in a global network of CbT experts and practitioners;
Develops and strengthens human and intellectual capital to understand and analyze the mechanisms of terrorism and the strategies to defeat it;
Improves the CbT capabilities and capacities of partner nations;
Cultivates an understanding of the tensions between operational effectiveness and protecting civil liberties and the rule of law; and,
Harmonizes participant views about the current terrorism threat.
With its focus on the development of core knowledge and skills, PTSS provides critical professional development in these sub-fields of terrorism studies:
Terrorist Motivations and strategies
Terrorism Radicalization and Recruitment
The Use of Security  Forces and Law Enforcement Agencies
The Role of Civil Society Against Terrorism
Countering Violent Extremism
Countering Terrorist Narratives 
Intelligence-Led Operations against Terrorism
Global Cooperation
The PTSS makes use of practitioner presentations on contemporary issues and regularly utilizes the PTSS alumni network as presenters and adjunct faculty. The PTSS features extensive seminar level  "Active Learning" projects/exercises.
Publications - Perspectives
English Language Enhancement Courses (ELEC)
The Marshall Center has its own language school – Partner Language Center Europe, which offers advanced and specialized classroom instruction in Arabic, English, French, Persian-Farsi, and Russian to more than 400 U.S. military and NATO/Partner attendees each year. Included in this are faculty professional development courses in language testing and classroom instruction and assessment. It is also a certified NATO Partner Training and Education Center. Contact the GCMC Registrar office for details on ELEC courses.
Course Details
Location
George C. Marshall Center - European Center for Security Studies
Garmisch-Partenkirchen, Germany

How to Register
For application and deadline information, contact Marshall Center Registrar, your ministry point of contact, or the U.S. or German Embassy in your capital city.
Course Director
Portrait image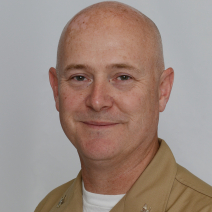 Col. Gary R. Reidenbach, U.S. Marine Corps
Program on Terrorism and Security Studies