Image

European Security Seminar-North (ESS-N)
This seminar on the European High North is part of the European Security Seminars (ESS) program at the George C. Marshall Center. ESS-North primarily focuses on the security challenges and opportunities of the European High North. Building on the previous ESS-N seminars, this program will bring together regional security professionals, scholars, and policymakers in an interactive, output-oriented program that serves not only as a dialogue among experts, but a forum for those security officials from relevant countries who have an interest in developments in the High North. ESS-N will focus on Arctic security issues within the European High North by examining emerging regional security challenges within the context of cooperation and confrontation. The seminar will focus on geostrategic competition in the European High North, with a particular emphasis on the emerging Arctic Security Dilemma on NATO's Northern Flank. It will examine the implications of Russia's Arctic Council Chairmanship and develop policy recommendations for establishing a cooperative trans-polar bridge between Arctic nations, building upon existing governance mechanisms that have largely enabled the region to remain peaceful thus far. ESS-N offers a unique forum for dialogue to enhance understanding of national and regional perspectives, recognize challenges and opportunities, and develop relationships in order to diminish the risk of misperceptions and miscalculations in the region. 
Background
The European High North is at the forefront of Arctic trends. As an Arctic sub-region, the European High North is unquestionably the most populated, developed and militarized region of the Arctic and it is attracting global interest. The impacts of intersecting climate, economic, environmental, and security trends will be felt most vividly in this sub-region of the Arctic. There is significant military activity, with the European High North being home to the Russian strategic defense bastions, NATO's northern flank with five NATO allies, and the Greenland-Iceland-United Kingdom Gap – a strategic chokepoint controlling the entrance to the Arctic. But in addition to military significance, the sub-region also holds tremendous oil and gas deposits, abundant mineral resources, and vast fishing stocks.
Global warming is having an alarming impact on the region, from thawing permafrost that impacts infrastructure to challenges with coastal settlements and military bases. Russia has rebuilt its defenses along the country's northern flank in anticipation of an opening Arctic.  NATO allies are reinvigorating security efforts on their northern flank.  China has sent both of its icebreakers through the region, collecting data that is of dual-use for commercial and military purposes. As a transit corridor, this route will see increasing traffic primarily due to the export of natural resources to market. The future opening of the trans-polar route – an unlimited draft route through the international waters of the Central Arctic Ocean – will spur increased commercial and military traffic. These trends portend a rising security dilemma.
Thus far, Arctic stakeholders have largely adhered to international laws and norms. The Arctic Council acts as a useful coordinating mechanism, though its mandate explicitly excludes security.  Russia's recent assumption of the Arctic Council Chairmanship has led many to question whether the region will see increased cooperation or confrontation. Further, the United States is renewing interest in the Arctic, with recent service strategies driving enhanced military activity in the region. The Nordic States are also evolving their strategies in the High North, with recent updates addressing climate change, economic and military security trends.
The Arctic has long been viewed as a peaceful and stable region, yet the evolving climate, economic and military security trends may impact the future security of the region.  While regional militaries have historically operated in the region, particularly in the undersea and air domains, it is clear that military activity is on the rise.  This Seminar will provide participants an opportunity to further examine the complex European High North and examine prospects for High North stability and cooperation.
Objectives
Assess prospects for mitigating security tensions in the European High North, given emerging developments from the Biden Administration's strategic guidance and Russia's Chairmanship of the Arctic Council
Enable dialogue and strengthen cooperative networks to advance mutual understanding and capacity for addressing regional security challenges, building civil-military resilience, and development of policy recommendations
Establish a foundation for broader security discussions based on sub-regional focus on the European High North and Baltic areas
Course Details
Location
George C. Marshall Center - European Center for Security Studies
Garmisch-Partenkirchen, Germany

How to Register
For application and deadline information, contact Marshall Center Registrar, your ministry point of contact, or the U.S. or German Embassy in your capital city.
Course Director
Portrait image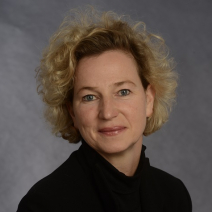 Katrin Bastian, Ph.D.
Research and Policy Analysis