Image

DoD Graphic
Marshall Center Hosts Impact of COVID-19 on Migration Virtual Lecture
By Christine June
Public Affairs Office
George C. Marshall European Center for Security Studies
GARMISCH-PARTENKIRCHEN, Germany – (June 25, 2020) German Air Force Col. Jörg Kunze held a virtual lecture on the Impact of COVID-19 on Migration June 25 at the George C. Marshall European Center for Security Studies here.
Almost 20 alumni from 11 nations attended the seminar online. The alumni were seminar participants from the Marshall Center's Program on Applied Security Studies and Seminar on Regional Security
These alumni were chosen because of their abilities to contribute to the discussion through their experiences or because their home countries are dealing with migration challenges, said Kunze, Marshall Center's SRS program director.
"As most decision makers and major parts of the population are occupied in dealing with the effects of the pandemic disease, there has not been enough attention for mitigating the push factors of migration," said Kunze on why he chose this topic for his first virtual lecture at the Marshall Center.
Portrait image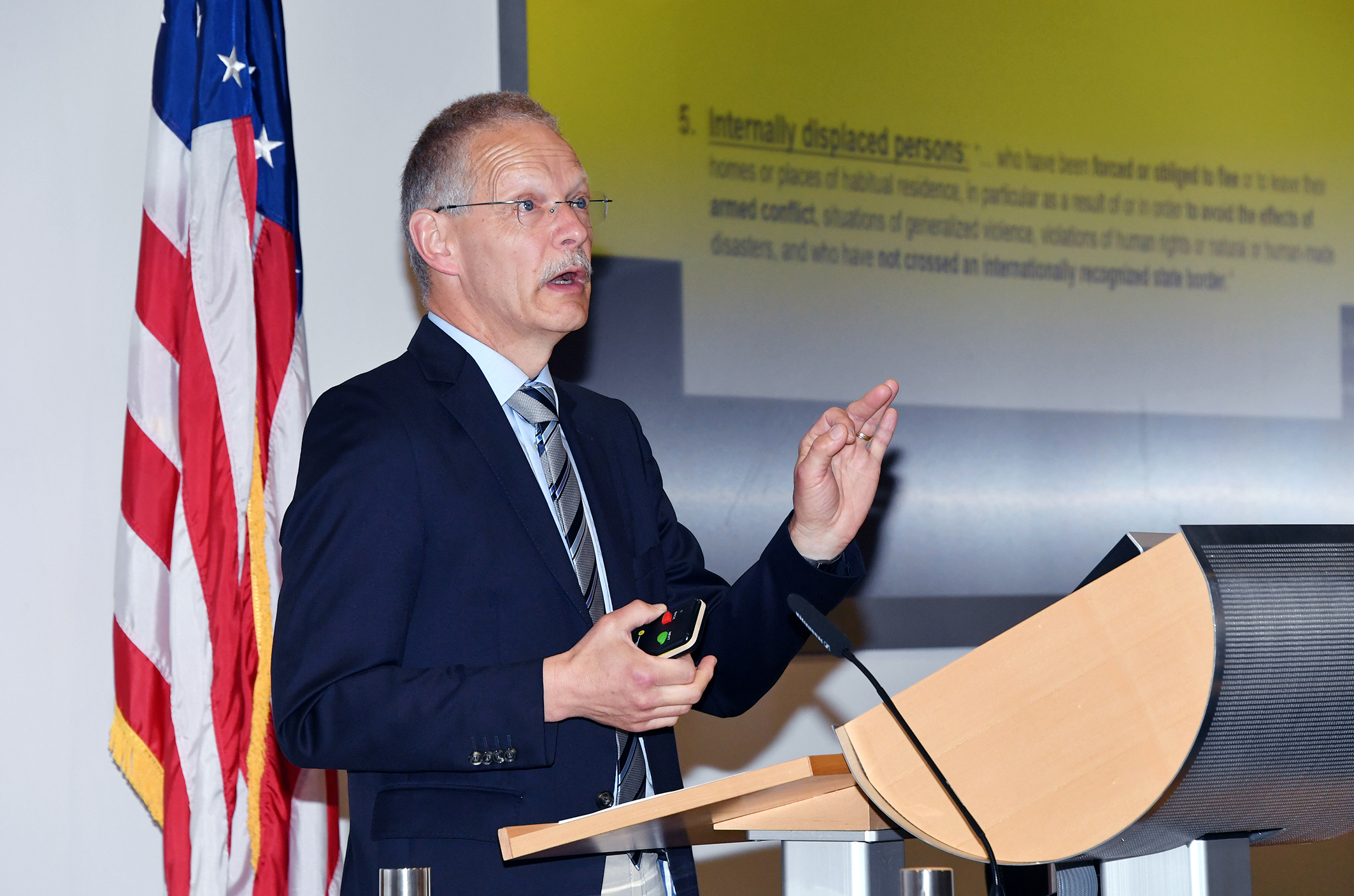 DoD photo by Karl-Heinz Wedhorn
Kunze began the lecture defining pandemics and discussing the particularities of COVID-19. During this first topic, he also talked about the impact of pandemics on migration and refugees in Europe.
He then defined migration and asking the question "Who is a Migrant?" before describing migrant and other terminology, such as asylum-seekers, refugees, economic migrants, internally displaced persons and irregular migration. Here, he gave data on selected displacement, asylum and refugees with his "figures-at-a- glance" slides.
The next topic that Kunze discussed was the push-factors for refugees and displacement in selected countries.
This is when he talked about the drivers of migration (the six "D's"): 1. demography, like ageing in the North and youthful in the South; 2. demand, like labor shortages versus labor surplus; 3. disparity increasing, like economic and social imbalances; 4. distance-shrinking, like cheap and rapid means of transport; 5. disasters, like natural and manmade; and, 6. desperation, like survival migration.
He, then, talked at length about the COVID-19 situation in selected countries of origin, transit or countries of destination of asylum seekers.  The countries he highlighted were Syria, Lebanon, Iraq, Iran, Afghanistan, Libya and Turkey.
He stressed the consequences of COVID-19 pandemics for asylum seekers, before discussing the reactions of COVID-19 on migration and refugees from the European Union and in particular, the Federal Republic of Germany.
Concluding the lecture, Kunze made the following points:
• The COVID-19 pandemics amplifies or fosters nationalist or isolationist movements and trends in transit and destination countries.
• The COVID-19 provides an excuse – not necessarily a justification – not to live up to human rights standards and fulfill commitments. This is true even for governments in democratic states.
• The COVID-19 reactions support objectives and goals of populist movements.
With this first virtual seminar under his belt, Kunze said that he plans to do more online lectures.
"I am working on a number of different other topics, like how to apply confidence and security-building measures in a world, where the 'old-world order' seems to have become more challenged than ever before," he said.