Image

fotosipsak/Getty Images
Marshall Center Course Improves English Skills to Fight Organized Crime
By Christine June
GCMC Public Affairs
George C. Marshall European Center for Security Studies
GARMISCH-PARTENKIRCHEN, Germany (July 9, 2019) – Although not her native language, Police Inspector Irena Marelja speaks English every day in her job as inspector for analysis and data processing in Bosnia and Herzegovina.
"I am dealing with many international organizations like INTERPOL (International Criminal Police Organization) and EUROPOL (European Union Agency for Law Enforcement Cooperation)," Marelja said. "So, it is very important for me to know how to speak, write and understand English at a professional level."
Marelja and her 9 classmates from eight countries graduated from the English Language Enhancement Course July 9 at the George C. Marshall European Center for Security Studies here.
The Marshall Center's Partner Language Training Center Europe developed this five-week course to increase participants' confidence and ability to communicate in English at a professional level on security topics.
"I learned many new words in English relating to police and law enforcement, and security studies in general, and how to deliver presentations," Marelja said. "I improved my English speaking fluency, and reading and writing skills."
This particular course was for participants who are attending the Marshall Center's Countering Transnational Organized Crime program, which starts the day after their graduation, July 10.
These graduates will now join 92 security professionals from an additional 43 countries for CTOC 19-15, which is a four-week resident program that focuses on 21st century national security threats as a result of illicit trafficking and other criminal activities.
This program examines the major methods by which transnational criminal and terrorist organizations engage in illegal narcotics trafficking and other criminal activities for profit.
It is designed for government officials and practitioners who are engaged in policy development, law enforcement, intelligence, and interdiction activities aimed at countering illicit narcotics trafficking, terrorist involvement in criminal activity, and the associated elements of transnational crime and corruption.
"This is an absolutely unique language program, which combines English skills development with the authentic CTOC content," said their instructor Thomas Soule, a contract instructor with PLTCE. "It helps them to be able to use the specific course terminology and encourage discussions among classmates from varied backgrounds and cultures."
Through reading materials, presentations by CTOC faculty, classroom discussions and videos, participants became familiar with the terminology and subject matter used in CTOC while improving their understanding of the nature of other security threats affecting the global community, Soule said.
He added that the participants learn the fine distinctions of CTOC terms such as indictment versus charge or prosecution, and the difference between human trafficking and migrant smuggling.
"We want to make sure they have the right word for the topic they are presenting or talking about with their classmates during CTOC," Soule said.
Unique to CTOC is the Marshall Minute, where participants have to put their thoughts together exponentially and answer questions in 60 seconds or less.
"I learned to share the most important information in a short time by participating in the Marshall Center Minute," said Capt. Inese Alcauska, chief inspector for the Criminal Investigation Service in the Republic of Latvia.
The Marshall Center Minute, said Soule, helps the participants to think in English and not in their native language in order to be understood and make their point in 60 seconds.
"The most important element of this course is the constant thinking and speaking in English for five weeks in preparation for the actual subject-matter course," Soule said. "The constant use of the English language for several weeks as a profound effect on people."
At the graduation ceremony, Professor Joe Vann, CTOC program director, welcomed the participants to CTOC 19-15.
"English is one of the true global languages. Continue to work on your English proficiency because it increases your ability to network. You will hear 'it takes a network to defeat a network' in CTOC.
"Whether it is a network to defeat a terrorist network or a network to defeat a network of transnational criminals, your ability to speak to one another in English as a network will be very, very important," he said.
Portrait image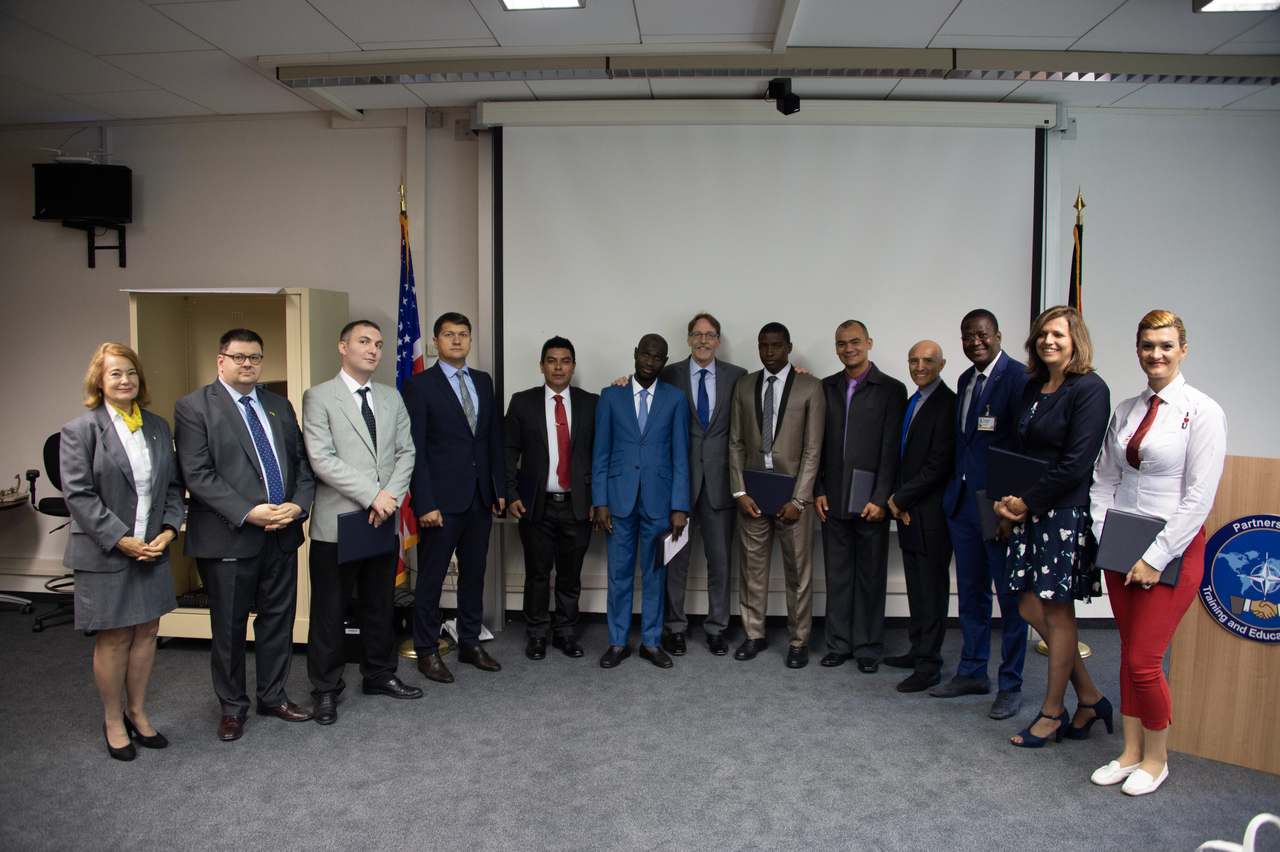 DoD photo by U.S. Army Sgt. Richard Gerszewski