Image

DoD Photo
Portrait image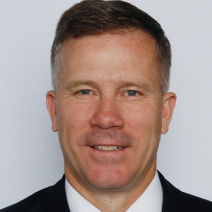 Ralph R. "Rick" Steinke
Associate Dean
College of International and Security Studies
Ralph R. "Rick" Steinke was the Associate Dean of Marshall Center's College of International and Security Studies, where he was responsible for College management, administration, operations, planning, personnel, academic support and evaluations, as well as serving as the Dean's principal advisor on strategic direction.
From September 2010 to April 2011 Steinke served in Afghanistan, where he was selected by the U.S. Ambassador to serve as U.S. Embassy Kabul deputy for civil-military integration. In this assignment, he also served as the senior U.S. Embassy liaison officer to the commander, International Security Assistance Force Joint Command (IJC).
Steinke previously served for 28 years in the United States Army, which included command of the 1st Battalion, 27th Field Artillery Regiment (MLRS). He also served as principal operations, plans and training officer (S-3) for a field artillery battalion and a field artillery brigade. His overseas operational experience included Operation Allied Force ("Task Force Hawk") as well as support of Operation Joint Guard, both in the Balkans.
A Foreign Area Officer, Steinke served in international liaison capacities at the brigade and Army levels, including service as liaison officer from a U.S. to a German artillery brigade; as an operations and training officer in an Italian mountain infantry battalion, the "Battaglione Alpini SUSA," Italy's then-contingent to NATO's former Allied Command Europe (ACE) Rapid Reaction Force; and as liaison officer from the U.S. Army Training and Doctrine Command to the Italian Army. Colonel Steinke's culminating U.S. Army assignment was as U.S. Senior Defense Representative (SDR) and Defense Attaché to France at U.S. Embassy Paris.
A graduate of the U.S. Military Academy, West Point,Steinke holds Masters degrees from Indiana University (West European Studies) and Norwich University (Diplomacy, with a counter-terrorism concentration). He also attended Harvard University for one year as an Army War College Fellow, graduating with a certificate in national security studies. Steinke also completed a professional graduate certificate program in international security studies from Stanford University.
Steinke's foreign languages include German, Italian and French. His awards include the U.S. Legion of Merit, the U.S. Department of State Meritorious Honor Award (Afghanistan), the French National Order of Merit (rank of Commander), six awards of the Meritorious Service Medal, Army commendation medal, two NATO medals (Afghanistan and Kosovo), the Global War on Terrorism Service Medal, the U.S. Army Ranger tab, U.S. and Italian parachute wings, and others.
In July 2006, Mr. Steinke joined the faculty of the College of International and Security Studies at the George C. Marshall Center. Mr. Steinke departed in April 2020.
Contact
gcmcpublicaffairs [at] marshallcenter.org