Image

Portrait image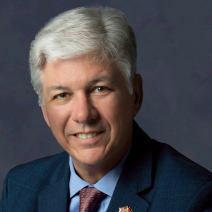 Major General (Ret.) Barre R. Seguin, U.S. Air Force
Director
George C. Marshall European Center for Security Studies
Retired Air Force Major General Barre R. Seguin became the Director, George C. Marshall European Center for Security Studies in June 2021. He is responsible for orchestrating resident courses, outreach programs, language training, and an international and interagency alumni network in fields of international security studies, defense and foreign affairs.
The Marshall Center enjoys an enduring German-American security partnership that has produced generations of global security professionals schooled in American and German security policies and strategic language enhancement. The mission of the Marshall Center is to enable solutions to regional and transnational security challenges through capacity building, access, and a globally connected network.
General Seguin retired from the U.S. Air Force in October 2020 as a major general after more than 31 years of active service.  His last assignment while on active duty was as the Deputy Chief of Staff, Strategic Employment, Supreme Headquarters Allied Powers Europe, Belgium.
He entered active duty in 1989 as a distinguished graduate of the Reserve Officer Training Corps after graduating from the State University of New York at Potsdam.  He went on to hold flying assignments to include duties as flight examiner, instructor pilot, wing chief of safety, and operations officer, with commands at the squadron, group, wing and Air and Space Expeditionary Task Force levels.
General Seguin held a variety of command and staff positions:  Commander, 9th Air and Space Expeditionary Task Force-Afghanistan and the NATO Air Command-Afghanistan, Kabul, Afghanistan; Director, Strategy, Engagement, and Programs, U.S. Africa Command, Stuttgart, Germany; Commander, 31st Fighter Wing, Aviano Air Base, Italy; Inspector General, Headquarters Air Combat Command; Office of the Vice Chief of Staff of the Air Force as senior executive officer; Commander, 14th Flying Training Wing, Air Education and Training Command; and senior Special Assistant to the Supreme Allied Commander, Europe.
He is a veteran of operations Deliberate Guard, Deliberate Forge, Joint Guardian, Southern Watch, Inherent Resolve, Resolute Support, and Freedom's Sentinel.
Downloads
Major General (Ret.) Barre R. Seguin Biography