Image

Portrait image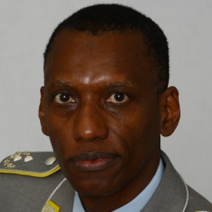 Lt. Col. Dr. habil. Youssouf Diallo
Military Professor
Security Studies
Lt. Col. Dr. habil. Youssouf Diallo joined the George C. Marshall European Center for Security Studies as a military professor in October 2020. He received his master's degree in development sociology from the University of Strasbourg and a Ph.D. in social anthropology from the École des Hautes Études en Sciences Sociales in Paris. Following that, he became a Lecturer at Bielefeld University, Germany. Dr. Diallo was a Senior Scholar in Max Planck Institute for Social Anthropology's department of "Conflict and Integration" in Halle/Saale. After his Habilitation at the University of Leipzig in 2004, he had teaching assignments at the University of Leipzig and the University of Gottingen. He was also a Visiting Lecturer at the Institute for Social Anthropology in Zurich.
From 2010 to 2014, Dr. Diallo was Lecturer at the German Armed Forces Command and Staff College in Hamburg and at the Leadership Development and Civic Center in Koblenz. He served as Cultural Advisor at the German Armed Forces Operational Communication Center in Mayen from 2014 to 2016. In addition, he attended the Conflict Prevention and Crisis Management Course at the German Armed Forces UN's Training Center in Wildflecken. In 2015 and 2016, he served as a Cultural Advisor (CULAD) to the European Naval Forces Mediterranean (EUNAVFOR MED) and helped rescue refugees from the Mediterranean.
From 2016 to 2019, Lt. Col Dr. habil. Diallo worked in the Personnel Department of the Federal Ministry of Defence in Bonn where he dealt with questions related to diversity management. He was a member of the Inter-ministerial Working Group "Diversity and Inclusion" of the Federal Government Commissioner for Migration, Refugees and Integration. He was also a Representative of Germany for NATO Science and Technology Organization's Research Group "Military Diversity: Ethnic Tolerance and Intolerance".
Before joining the Marshall Center, Lt. Col. Dr. Diallo served as a Liaison Officer in the Political Department of the Federal Foreign Office in Berlin. He was a member of the Sahel Task Force and dealt with institutional and security policy in the Sahel, especially the G5 Sahel Joint Forces.
Among his publications are a number of book chapters, scientific and professional articles on Islam, migration, nationalism, ethnicity, conflict, and security policy in Africa. Dr. Diallo continues research on security challenges in the Sahel.
Lt. Col. Dr. Diallo is a recipient of the Federal Armed Forces Medal EUNAVFOR MED (2016).
Contact
gcmcpublicaffairs [at] marshallcenter.org
Downloads
Lt. Col. Youssouf Diallo, Ph.D., Biography