Image

Portrait image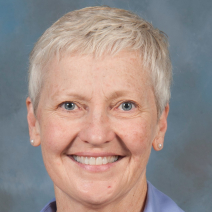 Karen J. Finkenbinder, Ph.D.
Deputy Associate Dean
College of International Security Studies
Areas of Expertise
Policing, Stability Policing, Police Reform
Peace Operations (peacekeeping)
Security Sector Reform (military and police)
Human Security  
Academic Degrees
Ph.D., Public Administration, Pennsylvania State University
Master of Strategic Studies, U.S. Army War College
Master of Public Administration, Pennsylvania State University
Bachelor of Science, Criminal Justice, Missouri-Western State University
Dr. Karen Finkenbinder joined the Marshall Center in July 2021 as the Chief of Publications and was promoted to the Deputy Associate Dean in January 2023. She also serves as a Lecturer for the Program on Applied Security Studies (PASS), as well as other Marshall Center courses.
Dr. Finkenbinder was previously the Chief of Research and Publication and the Peace Operations and Rule of Law Advisor at the Peacekeeping and Stability Operations Institute (PKSOI). She also served as the Course Director for the Army War College Peace Operations Course and has taught criminal justice courses at Shippensburg University and Pennsylvania State University. Dr. Finkenbinder served as the U.S. Professor of Peacekeeping to the Socialist Republic of Vietnam's Peacekeeping Center as it built its capabilities and capacities to train, deploy, sustain, and regenerate peacekeepers.
Additionally, Dr. Finkenbinder was a U.S. expert for community policing to the United Nations, and has served as a municipal police officer, state police training and education specialist, and military police officer.
Contact
gcmcpublicaffairs [at] marshallcenter.org