Image

DoD Army Sergeant Mikki Sprenkle
Portrait image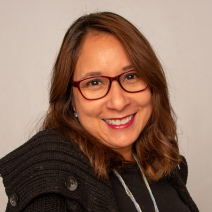 Edelmira Nickels Ph.D.
Department Chair
Strategic Languages Department
Doctor Edelmira L. Nickels is the Chair of the Strategic Languages Department at the Partner Language Training Center Europe (PLTCE) at the George C. Marshall European Center for Security Studies in Garmisch-Partenkirchen, Germany.  She advises the Director of PLTCE on matters related to foreign language acquisition / assessment, and provides academic leadership to the Linguist Enhancement Course instructional program.  
Prior to her current position, Dr. Nickels served as the Chief of the English Testing Flight at the US Defense Language Institute English Language Center (DLIELC) in San Antonio, Texas. She was responsible for the development, distribution, and security of English-language proficiency tests in support of Security Cooperation, military accessions, and US-sponsored exercise programs for the US Department of Defense. Dr. Nickels led a remarkable team of civilian and military personnel in the creation of over 1,000 valid test items each year and the oversight of 261 non-resident test sites worldwide. She oversaw an average 34,000 English Comprehension Level test administrations, 1,100 Oral Proficiency Interviews, 900 Resident American Language Course Placement Tests, and 16,000 resident book quizzes per year. Dr. Nickels also represented the US Government as training facilitator in PLTCE's Language Testing Seminars, professional conferences, and on three language training teams to the Middle East.
Before entering civil service, Dr. Nickels worked in academia, where she published several research studies in second language acquisition and in discourse analysis. At university, she taught ESL, Spanish, and courses in linguistics. Dr. Nickels also brings extensive experience from years of working in language testing and assessment with local, state, and non-profit organizations in the US.
Dr. Nickels holds a Ph.D. in Applied Linguistics and an M.A. in TESOL and Applied Linguistics from Indiana University, Bloomington, as well as a B.A. in Secondary Education, English as a Second or Foreign Language from the University of Puerto Rico, Rio Piedras. 
Contact
pltce.programs [at] marshallcenter.org
Downloads
Bio PDF Edelmira Nickels Ph.D.