Image

Portrait image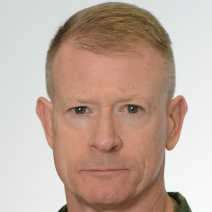 Colonel Frank K. Chawk, III, Marine Corps
Department Head
Transnational Security Studies
Areas of Expertise
Intelligence / Cyber
Strategic Competition
Terrorism / Counterterrorism
Hybrid Threats
Academic Degrees
B.A., International Studies, Western Europe, University of Dayton
Masters of Military Studies and Masters of Operational Studies, Marine Corps University
M.A., Strategic Security Studies, NDU
Colonel Frank Chawk joined the George C. Marshall Center in August 2022. He serves as Department Head of the Transnational Security Studies Department where he oversees the programs on cyber security studies, countering transnational organized crime, and terrorism security studies.
A career intelligence officer, he is also a European foreign area officer (FAO) & a Middle East regional affairs officer (RAO). He has commanded a Scout-Sniper Platoon, Reconnaissance Company, Region Five (Western Europe), Marine Corps Embassy Security Group, and the Marine Corps Information Operations Center. 
His staff assignments include infantry battalion intelligence officer and current intelligence officer for the US Navy's 6th Fleet in Gaeta, Italy. As a Major, he served as a Signals Intelligence Collection Manager in the Central Command J2, was the Aide de Camp to the Commanding General, and served in the J2X (Human Intelligence) directorate. He deployed as the future operations planner for Combat Logistics Regiment-2, Marine Expeditionary Brigade-Afghanistan and served as the Plans Officer for 2nd Marine Logistics Group. As a Lieutenant Colonel, he deployed as the Deputy G2 for 2nd Marine Division in Afghanistan and served as the Liaison Officer to US Special Operations Forces. He served as a Branch head at HQMC Intelligence Department before deploying as the Deputy J2 for the CJFLCC in Baghdad, Iraq. As a Colonel, he served as the Chief for Intelligence Operations Division and his most recent assignment was with the Defense Intelligence Agency where he served in the Europe Eurasia Regional Center and as the senior Service advisor to DIA.
Colonel Chawk was a distinguished graduate of the Marine Corps' Amphibious Warfare School, Command and Staff College, and National Defense University's College of International Security Affairs. He completed the Joint Forces Staff College Joint PME Phase II, the Marine Corps' School of Advanced Warfighting, the Joint FAO skills sustainment program (Europe), and the Air War College (distance education program). He also completed MIT's Seminar XXI Program as a Marine Corps fellow. In addition to various campaign and personal awards, he was the recipient of the Navy League's John A. Lejeune Leadership award.
Downloads
Col. Frank K. Chawk, Biography