Image

Portrait image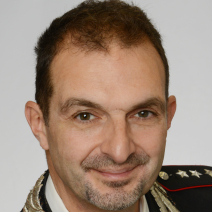 Colonel Davide Giannì, Carabinieri Corps
Military Professor
Strategic Security Studies
Areas of Expertise
Criminal Investigation
Countering Transnational Organized Crime
Public Security
Law Enforcement and Stability Policing
Academic Degrees
B.A., Law, University of Rome
B.A., Political Science, University of Trieste
Master's Degree, Internal and External Security Science, University of Rome
Colonel Davide Giannì joined the Marshall Center in October of 2023 as a Military Professor. He is a Senior Officer of the Carabinieri, the Italian gendarmerie-type force, and has held various command and staff positions, both in Italy and abroad.
Prior to joining the Marshall Center, Colonel Giannì served in the NATO Force Structure as Provost Marshal, Advisor to the Commander and Assistant Chief of Staff for Military Police at Rapid Deployable Corps Italy, participating in international exercises such as Steadfast Jackal and African Lion.
As a staff officer and unit commander, Colonel Giannì served in Peace Support Operations in Integrated Police and Multinational Specialized Units. He deployed to Bosnia-Herzegovina with the NATO Stabilization Force, Operation Joint Forge and European Rapid Operational Force, Operation Althea. He also deployed to Kosovo with Kosovo Force, Operation Joint Guardian and to the West Bank with the Temporary International Presence in the city of Hebron, as an observer on breaches of humanitarian law.
Throughout his career, Colonel Gianni has held leadership positions, including commanding the investigative and intelligence units conducting investigations on serious crimes, terrorism, and organized crime in major provinces in Lombardia and Calabria. He also commanded the unit that provided security services and support to the judiciary in the metropolitan Court of Justice in Milano and worked as a military trainer for Carabinieri noncommissioned officers.
Colonel Gianni has received several personal awards, including the Order of Merit of the Italian Republic (Knight), Mauriziana Medal of Merit for long military service, Gold Medal for more than 20 years of service in command, Gold Cross with gold star for military seniority, NATO medals for former Yugoslavia and Kosovo, and the Medal of Temporary International Presence in the city of Hebron (TIPH). He has also been awarded Commemorative Crosses for Overseas Peace Operations.
Downloads
Colonel Davide Giannì Biography