Image

Portrait image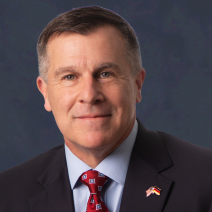 Brigadier General (Ret.) Tim McAteer, U.S. Army
U.S. Deputy Director
George C. Marshall European Center for Security Studies
Retired Army Brigadier General Tim McAteer became the US Deputy Director, George C Marshall European Center for Security Studies in March 2022. As a member of the Director's Leadership Team, he works with the German Deputy Director, Directorate Leaders and staff teammates to achieve the Center's collective vision and mission. He guides and coordinates operational elements of the Marshall Center, formulates plans and programs for administration and operations, and coordinates stakeholder support and resourcing to meet programmatic objectives.

Retiring in 2018 after serving twenty-nine years in the United States Army, McAteer's last assignment while on active duty was as the J5 Deputy Director (Plans, Strategy and Engagement) at US Africa Command in Stuttgart, Germany. 
Most recently he served as the Pacific Region Director for AmeriCorps National Civilian Community Corps (NCCC) in Sacramento, California. As Director, he was responsible for outreach and engagement, program expansion, Corps Member development, campus administration, and project execution across the nine-state Pacific region.  

Throughout his Army career, McAteer has held a variety of command and staff positions to include: Deputy Commanding General (Maneuver) 3rd Infantry Division, J3, Director of Operations, CJTF Operation Inherent Resolve, Commander-Operations Group, Joint Readiness Training Center, Commander, 2nd Brigade, 82nd Airborne Division, J3, Director of Operations RC-East Operation Enduring Freedom and Commander, 2nd Battalion, 508th Parachute Infantry Regiment.
 
After receiving his BA from Texas Tech University, McAteer earned a Master of Art from Louisiana State University and a Master of Military Art and Science from the School of Advanced Military Studies (SAMS), US Army Command and General Staff College. He completed his senior service college education serving as military fellow in-residence at Yale, Jackson Institute for Global Affairs.
Downloads
Brigadier General (Ret.) Tim McAteer Biography