Image

Portrait image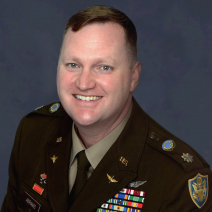 Lieutenant Colonel Stephen Abrams, U.S. Army
Director
Eurasian FAO Program
Lieutenant Colonel Steve Abrams is Director of the Eurasian Foreign Area Officer Training Program at the George C. Marshall Center in Garmisch, Germany. A Northern Virginia native, he was commissioned into the Aviation branch in 2005. In 2013, LTC Abrams became a Europe/Eurasia Foreign Area Officer (FAO) and was a 2014 honor graduate of the Defense Language Institute's Russian Special Projects Course.
Prior to his current assignment, LTC Abrams served in a variety of roles at U.S. European Command in Stuttgart, Germany; including as Eurasia Branch Chief in the Combatant Command's Strategy, Plans, and Policy Directorate (J-5). His earlier FAO assignments include service as a Political-Military Advisor in the Office of the Deputy Chief of Staff, G-3/5/7, Headquarters, Department of the Army; Iraq Country Director in the Office of the Secretary of Defense; and Assistant Army Attaché to Iraq. Prior to becoming a FAO, he held a range of operational and leadership positions as a UH-60 Blackhawk aviator, including command of a company, 2nd Battalion (Air Assault), 2nd Combat Aviation Brigade in Korea; and service in Afghanistan with 5th Battalion (Air Assault), 101st Aviation Regiment, of Fort Campbell, Kentucky. 
LTC Abrams has a master's degree in international relations and conflict management from the Johns Hopkins University School of Advanced International Studies, a graduate certificate in great power competition from the Naval Postgraduate School, a bachelor's in criminology from Florida Southern College, and an associate's in Russian from the Defense Language Institute.
His awards and decorations include three Defense Meritorious Service Medals, two Army Meritorious Service Medals, the Air Medal, the Army Commendation Medal, the Joint Service Achievement Medal, three Army Achievement Medals, and the Department of State Meritorious Honor Award. LTC Abrams has also earned the Army Airborne and Air Assault Badges, and the Office of the Secretary of Defense and Army Staff Identification Badges.
Downloads
Lieutenant Colonel Stephen Abrams Biography