Image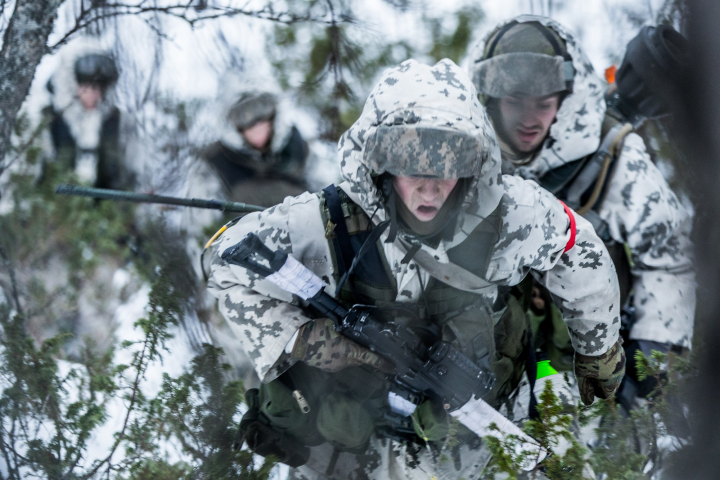 maavoimat.fi
NATO's Northern Edge
October 2014, Number 05.04
"Understanding the reasons behind Finland and Sweden not joining NATO, despite being members of the European Union, requires more knowledge of psychology and history than strategy and politics. Both countries have had lively debates about their relationship with NATO since the end of the Cold War, and the discussions have intensified with the ongoing crisis in Ukraine and Russia's annexation of Crimea. Finland and Sweden have been keen on developing partnerships with NATO. At the NATO summit in Wales in September 2014, they conducted discussions on enhanced partnership and signed a host nation support agreement with NATO. Although it remains unlikely there will be a swift decision to apply for full NATO membership, it cannot be ruled out either.
Finland's and Sweden's historical traditions of neutrality, which continue under the label of military nonalignment, are the primary reasons they have not joined the Alliance. Sweden's more than 200-year-old neutrality has kept it out of military conflicts. Finland's tradition is shorter and the experience is mixed. Nevertheless, Finns believe that their neutrality policy was the key to its success during the Cold War..."
Excerpt from Tuomas Forsberg, "NATO's Northern Edge," per Concordiam: Journal of European Security Defense Issues 5, No. 4, 2014: 30-33.
Tuomas Forsberg is a professor of international relations at the University of Tampere, Finland. He is also deputy director of the Centre of Excellence on Choices of Russian Modernisation at the Aleksanteri Institute of the University of Helsinki. He earned his doctorate at the University of Wales, Aberystwyth, in 1998. His research has dealt with European security issues, focusing on the EU, Germany, Russia and Northern Europe. Forsberg worked from 2002 to 2004 as Professor for European Security at the Marshall Center.
This article reflects the views of the author and are not necessarily the official policy of the United States, Germany, or any other governments.