Image

DOD photo by Karl-Heinz Wedhorn
Portrait image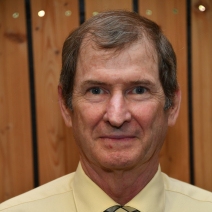 David L. Oglesby
Department Chair
Strategic Languages
David L. Oglesby has been the Chair of the Strategic Languages Department at PLTCE since 2015.  He advises the Director of PLTCE on matters related to language acquisition/assessment and provides academic leadership to the Linguist Enhancement Course instructional program.  He recently worked with a group of interpreting SMEs to develop a new PLTCE course – Applied Consecutive Interpreting Techniques.  He regularly advises Bureau for International Language Coordination (BILC) officials on language testing issues, and he is a facilitator for the Language Testing Seminar and the Advanced Language Testing Seminar.
Previously, he was Chief of Testing at the Defense Language Institute English Language Center, he was a Russian instructor at the Defense Language Institute Foreign Language Center, and he worked in Defense Attaché Offices in Kyiv, Ukraine, and Ashgabat, Turkmenistan.  In 2009, he was the English Language Training Program Manager in Kabul, Afghanistan, as part of Operation Enduring Freedom.
He holds an MA in Teaching Foreign Languages from Middlebury Institute of International Studies at Monterey and undergraduate degrees in liberal arts and social science education.  He is a graduate of DLIFLC's basic, intermediate, and advanced Russian courses.
Contact
pltce.programs [at] marshallcenter.org