Image

Marshall Center Hosts Women Peace, Security Hybrid Virtual Seminar
By Christine June
Public Affairs Office
George C. Marshall European Center for Security Studies
GARMISCH-PARTENKIRCHEN, Germany (Aug. 25, 2020) – The landmark resolution on Women, Peace and Security was unanimously adopted by the United Nations Oct. 31, 2000.
"Security Council Resolution 1325 marked the first time the Security Council addressed the disproportionate and unique impact of armed conflict on women and recognized the under-valued and under-utilized contributions women make to conflict prevention, peacekeeping, conflict resolution and peacebuilding," said Dr. Valbona Zeneli, the chair of Strategic Initiatives Department at the George C. Marshall European Center for Security Studies, based here.
That was almost 20 years ago. Where are we, and where do we go from here?
To answer, or more adequately to discuss, these questions, Zeneli and her colleague, Dr. Suzanne Loftus, Marshall Center's national security professor and deputy chair of Strategic Initiatives Department, moderated a Women Peace and Security hybrid virtual seminar Aug. 25.
"We set out to promote an honest dialogue between men and women in the security sector and assess the progress of Resolution 1325," Loftus said. "We felt we achieved a constructive conversation on where we are and where we should strive to go from here with gender equality and norms."
The Marshall Center's German Deputy Director retired German Air Force Helmut Dotzler gave opening remarks.
Portrait image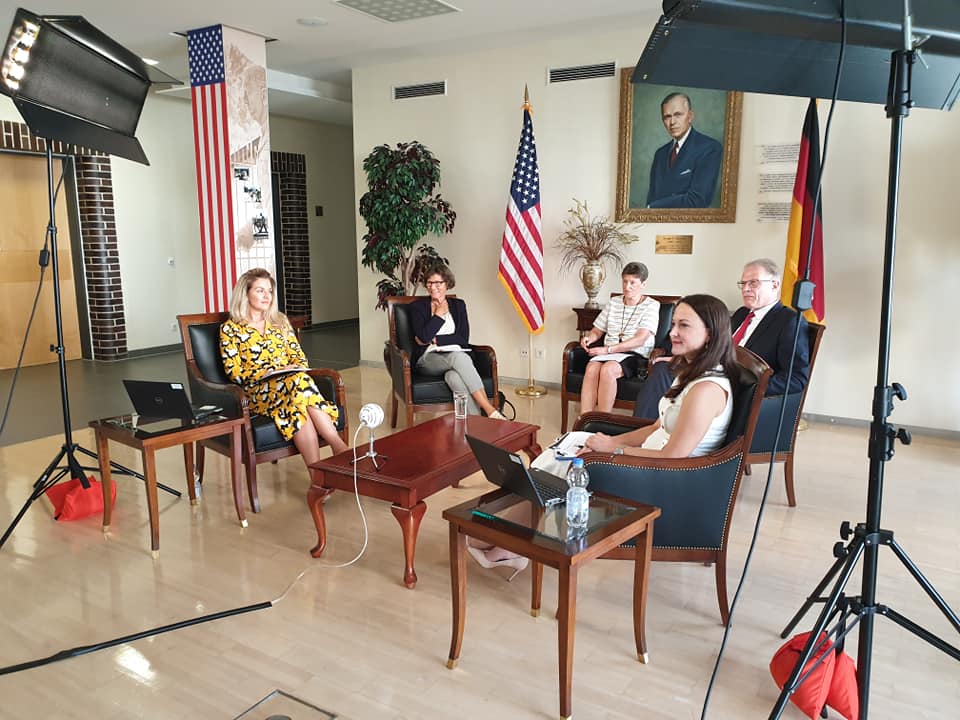 Due to the COVID-19 pandemic, the Marshall Center has adhered to a strictly online virtual space to conduct seminars and conferences, but this one was a little bit of both worlds.
"We thought having a socially-distant, in-person panel would add a human touch to the purely virtual world," Zeneli said.
Attending in-person, social distancing, were Dotzler, Zeneli, Loftus and two speakers, who were Angela Kane, senior fellow at the Vienna Center for Disarmament and Non-Proliferation, and Dr. Sigrid Meierhofer, former mayor of Garmisch-Partenkirchen.
The event consisted of two panels. Loftus moderated the first panel, which covered various perspectives on the progress made through the UN Resolution 1325.
Panel one speakers included:
Kane, who said, "Women in power are not the norm at all. They are underrepresented as leaders, negotiators, politicians, CEOs (Chief Executive Officers) and parliamentarians."
Meierhofer, who said, "Education is a prerequisite for women to be presented in decision-making bodies and enables them to find their way to self-responsibility."
Christina Orisich, deputy director for the Geneva Centre for Security Policy, who said, "More attention is needed in closing the power gap and shifting social norms, moving to an ecosystem approach to peace and security, and shifting mindsets and seeing tensions."
Closing out this panel was Dr. Saskia Hieber, senior lecturer on International Politics at the Akademie für Politische Bildung and University of Regensburg.
Portrait image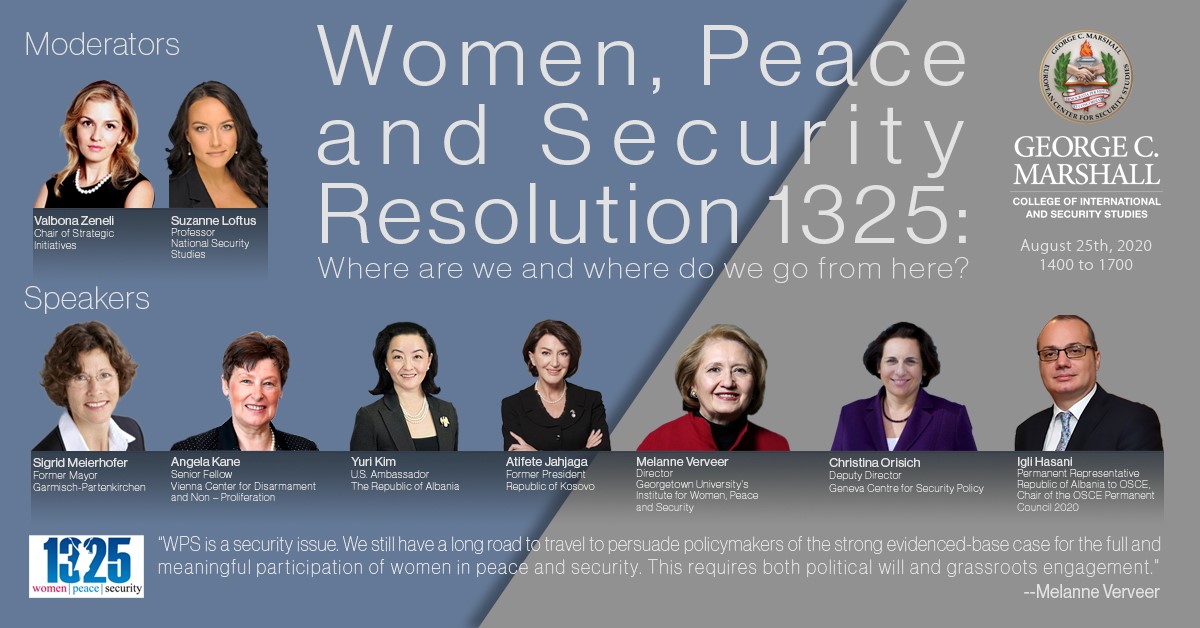 Zeneli moderated the second panel, which focused on the importance of gender equality for national security.
Panel two speakers were:
Ambassador Melanne Verveer, executive director of the Georgetown Institute for Women, Peace and Security, who said, "WPS is a security issue. We still have a long road to travel to persuade policymakers of the strong evidenced-base case for the full and meaningful participation of women in peace and security. This requires both political will and grassroots engagement. It can no longer be viewed as an option, but a necessity for national and international peace and security."
Ambassador Yuri Kim, permanent representative of the Republic of Albania to Organization for Security and Co-operation in Europe, who said: "WPS is about women, but it's not merely a 'women's issue' - it affects the whole of our communities, our countries and our world."
H.E. Atifete Jahjaga, president of the Jahjaga Foundation and former president of the Republic of Kosovo, who said "We need to secure a seat at the decision-making table for women in order to advance women's participation in and influence on security-policy and practice."
Ambassador Igli Hasani, permanent representative of the Republic of Albania to OSCE and chair of the OSCE Permanent Council 2020, who said, "As Chair of the OSCE, we want to use the 20th Anniversary of UNSCR1325 to bring renewed intent to improve gender equality and women's participation across the 57 states of the OSCE."
Marshall Center alumna, Mary Chakvetadze, counselor at the Embassy of Georgia in the United Kingdom and the Alternate Permanent Representative of Georgia at the International Maritime Organization, was among the 63 online participants.
"This event was really exciting as the participants took a stock of current challenges and marked important steps forward for implementation of the UN Security Council's Resolution 1325," she said. "To create and maintain the lasting peace, women's leadership is absolutely important."
From her current position of the Alternate Permanent Representative of Georgia to the IMO, Chakvetadze said that she could draw parallels between women's participation and leadership in peace and security process and women's participation and leadership in the maritime sector."
"As a heavily man-dominating sector, maritime industry requires serious changes and continues efforts to promote gender equality and support women." She added, "Only last year, in 2019 the IMO adopted its first resolution on empowering women and promotion of gender equality in the maritime sector.
"I am particularly proud of my active participation in its drafting and promoting process," she said. "This is another confirmation that there is a long way to go and there are many gaps to be filled in. It is important that a wholistic approach is applied by international organizations to support and facilitate women's engagement and leadership globally." 
Both Zeneli and Loftus said they plan on holding regular online WPS events and interviews with professionals who are actively involved with WPS issues.
"The mission of the Marshall Center is to promote peace and security through understanding and cooperation," Zeneli said. "This also includes the very important role of women and gender equality in advancing peace, democracy, security and economic prosperity."
She added, "We will follow-up with more events on WPS on regional, like the Balkans, Eastern Europe and Latin America, or functional focus, such as Countering Transnational Organized Crime, economic and security sector."
"Our aim is to become the Center of Excellence on Women, Peace and Security," Zeneli said.