Image

DoD photo by Christine June
Portrait image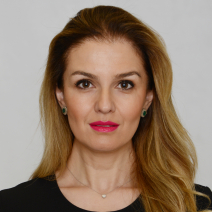 Valbona Zeneli, Ph.D.
Professor
Strategic Security Studies
Areas of Expertise
International Political Economy
Strategic Competition
Transatlantic Partnership
Southeast Europe
Good Governance
Academic Degrees
Ph.D., Political Economy, University of Bari, Italy
Graduate Studies, International Marketing, Georgetown University, United States
Bachelor of Science, Business Administration, University of Bologna, Italy
Dr. Valbona Zeneli joined the Marshall Center in August 2011 as a Professor of National Security Studies. She also serves as the Chair of Strategic Engagements in the Department of Strategic Security Studies. Her portfolio covers the Ukraine Defense Reform Program, the Senior Leaders' Program for capacity building for parliamentarians, and the Loisach Group. Dr. Zeneli is also a non-resident Europe's Future Fellow at the Institute for Human Sciences (IWM) in Vienna, focusing her research on Chinese influence in the Balkans.
Before joining the Marshall Center, Dr. Zeneli was a professor of international economics at the European University of Tirana and associate professor at the New York University of Tirana. From 2003-2005, Dr. Zeneli served as economic adviser to the Albanian prime minister.
Dr. Zeneli has published numerous academic papers, book chapters, and policy papers and is a frequent contributor to international magazines. She has delivered more than 100 presentations in more than 30 countries, and is a frequent lecturer at the NATO School, the U.S. Foreign Service Institute, and several defense academies across Europe. She is part of the Transatlantic Leadership Network's NATO Task Force, comprised of European and North American diplomats, military experts, and security analysts with significant experience in NATO affairs. She has completed several Executive Education programs at Harvard Kennedy School of Government. In 2019, Dr. Zeneli received a Certificate of Appreciation from Georgetown University for over 10 years of collaboration in research and publication.
Dr. Zeneli speaks Italian, German, Albanian, and some Spanish.
Contact
gcmcpublicaffairs [at] marshallcenter.org
Downloads
Valbona Zeneli, Ph.D. Biography