Image

DoD photo by Karl-Heinz Wedhorn
Portrait image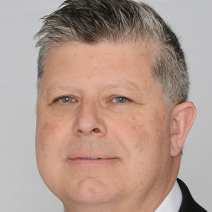 Stephen Noguera
NCIS Faculty Chair
Professor of National Security Studies
Special Agent Stephen Noguera serves as the U.S. Naval Criminal Investigative Service (NCIS) Chair and Professor of National Security Studies at the George C. Marshall European Center for Security Studies' College of International and Security Studies. He also serves as a Deputy Program Director for the Countering Transnational Organized Crime (CTOC) Program.
Special Agent Noguera began his law enforcement career in Southern California in 1987 and worked at several local agencies and in a variety of assignments as a Deputy Sheriff, Police Officer, Detective and District Attorney Investigator to include positions focused on drugs, gangs, organized crime and criminal intelligence.
From December 1997 to December 1998 Noguera served in the United Nations International Police Task Force (UNIPTF) in Bosnia-Herzegovina where he helped develop and implement a Field Training Officer (FTO) program for Bosnian Federation Police. He was later seconded to the United Nations International Drug Control Program (UNDCP) as a drugs & organized crime instructor/advisor to the Bosnian Government. In this capacity he also spent a month lecturing on police management & leadership principles at the Basque Autonomous Police (Ertzaintza) Academy in Vitoria, Spain.  
Following his 14 years of service in local law enforcement, Special Agent Noguera joined the U.S. Naval Criminal Investigative Service (NCIS) and graduated from the Federal Law Enforcement Training Center's (FLETC) Criminal Investigator Training Program (CITP), earning Special Agent credentials in 2001. 
During his career with NCIS, Special Agent Noguera served in a variety of general criminal investigations, counterintelligence and counterterrorism positions and was designated a Foreign Area Officer (FAO) for Latin America.
During the period 2002 to 2005, his focus as a Case Agent was on counterterrorism, criminal investigations and force protection in Spain, Portugal, and Morocco. In 2007 Special Agent Noguera served in a Western Pacific deployment as special agent afloat aboard the USS Nimitz (CVN-68). In 2008 he was assigned as the Resident Agent In-Charge of the DoD Force Protection Detachment, US Embassy Republic of Panama, where he managed force protection matters as well as investigations and operations relating to terrorism and transnational organized crime.
In 2013 Special Agent Noguera deployed to Camp Lemonnier, Djibouti for six months as the CJTF-HOA TFCICA responsible for coordinating DoD counterintelligence and counterterrorism matters in East Africa. From 2013-2017 he held supervisory and senior management positions in Okinawa, Japan, Los Angeles, CA and Camp Pendleton, CA where he served as the Assistant Special Agent in Charge of the NCIS Marine Corps West Field Office. In California he managed all facets of the NCIS mission to include NCIS participation in the FBI Joint Terrorism Task Force (JTTF) in Los Angeles and Orange, CA.  
In 2017 he was assigned as the NCIS Resident Agent in Charge, US Embassy Republic of Djibouti responsible for all NCIS activities and operations in Djibouti primarily focused on force protection, counterterrorism and transnational organized crime in East Africa.
Special Agent Noguera earned a master's degree in management from the University of Redlands and a Bachelor of Science degree in applied management from Azusa Pacific University. He has completed graduate level coursework in International Relations and Joint Maritime Operations from the US Naval War College as well as completed PhD coursework in the field of Criminal Justice and Homeland Security.  
During his career with NCIS Special Agent Noguera has earned numerous awards to include the Department of the Navy Meritorious Civilian Service Award, DoD Joint Civilian Service Commendation Medal, DoD Global War on Terrorism Civilian Service Medal and NCIS Expeditionary Service Medal. In 2010 he was recognized as the NCIS South East Field Office Special Agent of the Year in the discipline of Counterterrorism.  
Special Agent Noguera serves on the national board of the Hispanic American Police Command Officer's Association (HAPCOA). 
He speaks fluent Spanish and is proficient in Portuguese.  
Contact
gcmcpublicaffairs [at] marshallcenter.org