Image

DOD photo by Karl-Heinz Wedhorn
Portrait image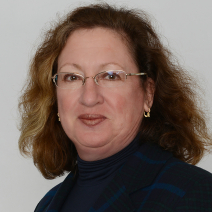 Nannette Roberts
Directorate of Business Operations
Nannette Roberts currently serves as the Director, Business Operations (DBO) at the George C. Marshall Center.  As the DBO, she guides and coordinates the operations of five major divisions:  Admissions/Registrar; Human Resources; Logistics; Resource Management and Office of the Chief Information Officer.  She assumed duties as DBO Director in January 2020.  
Roberts retired as a Navy Captain in June 2013 after more than 26 years of active-duty service.  Born in Myrtle Beach, South Carolina and raised in Hawaii and Arizona, she studied abroad in France, and later culminated her studies and received her commission as a distinguished Naval graduate from the University of Arizona in Tucson.
Roberts' early tours included the Assistant Security Officer, Commander Fleet Activities in Yokosuka, Japan; Service School Command, in San Diego, California, as Battalion Commander for the Broadened Opportunity for Officer Selection and Training (BOOST) Program; Director of the Family Service Center, U.S. Naval Station Subic Bay in the Republic of the Philippines. 
She received her Masters of Arts Degree in National Security Affairs (Western Europe emphasis) from the Naval Post Graduate School.
Other assignments include Security Officer and Base Realignment and Closure (BRAC) Officer, Naval Station Treasure Island in San Francisco, California; Protocol Officer for the Commander in Chief, U.S. Naval Forces Europe in London, England; Human Resources (HR) Junior Detailer; Chief Staff Officer, Sealift Logistics Command Far East in Singapore and Officer in Charge of the Office of Naval Research Global in Tokyo, Japan.   Her last assignment prior to retiring was as the Director, Resource Requirements for CNE-CNA-C6F in Naples, Italy.
Roberts has had command opportunities serving as the Commanding Officer, Military Sealift Command Office, Port Canaveral (MSCO PCAN) and the Commanding Officer of Naval Support Activity, Gaeta, Italy.
Her personal awards included the Legion of Merit, Meritorious Service Medal (four awards), Joint Service Commendation Medal, Navy Commendation Medal (three awards), and the Navy Achievement Medal (three awards). 
Her previous civilian assignment was on staff at Commander, U.S. Pacific Fleet as Fleet Manpower, Personnel & Programming and responsible for overall support to the following Fleet and Headquarters functional areas:  Fleet Programming Review and Requirements; Fleet Manpower; Fleet Personnel Distribution and Fleet/Joint Exercise Manning Requirements.
Contact
gcmcpublicaffairs [at] marshallcenter.org