Image

Portrait image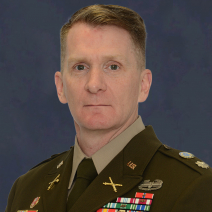 Lt. Col. Vincent Mucker, MIPP, U.S. Army
Director
Eurasian FAO Program
Lieutenant Colonel Vince Mucker is the Director of the Foreign Area Officer Training Program at the George C. Marshall European Center for Security Studies. He has been selected to attend Senior Service College, and for promotion to the rank of Colonel.
Prior to his present duties, he served as the Security Cooperation Division Chief, U.S. CENTCOM J5 Directorate.  His previous assignments have included service with the 101st Airborne Division, the 1st Cavalry Division, at the U.S. Embassy in Tbilisi, Georgia, the Defense Threat Reduction Agency, and as an ROTC instructor at Santa Clara University.

LTC Mucker is a graduate of the Field Artillery Officer Basic Course, the Field Artillery Captains Career Course, 
the Basic Russian Language Course, the Command and General Staff Officers' Course, and Joint Professional Military Education-II. His civilian education includes an Associate of Arts degree in Russian from the Defense Language Institute, a B.S. in Political Science from Texas A&M University and George Washington University's Masters of International Policy and Practice (MIPP).

His awards and decorations include the Bronze Star Medal (with Oak Leaf Cluster), the Defense Meritorious Service Medal (with Oak Leaf Cluster), and the Iraqi Campaign Medal (with 4 Campaign Stars). He has earned the Combat Action Badge, the Parachutist Badge and the Air Assault Badge. 
Downloads
Lt. Col. Vincent Mucker Biography