Image

DoD photo by Karl-Heinz Wedhorn
Portrait image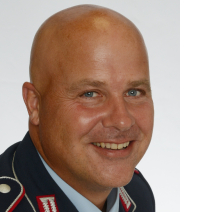 Lt. Col. (GS) Thomas Groborsch
Military Professor, Deputy Course Director
Military Professor
Lt. Col. (GS) Thomas Groborsch is a military professor and Deputy Course Director for the Program on Applied Security Studies at the George C. Marshall European Center for Security Studies. He received his Master's degree in Economics from the German Armed Forces University in Munich, Germany and is also a graduate of the resident Air War College at Maxwell AFB in Montgomery, AL.
Prior to arriving at the Marshall Center, Lt. Col. Groborsch commanded System Center 23, the German Air Force's backbone of depot level maintenance located at Wunstorf Airfield in Mechernich. He has served as the Deputy Director of the Directorate of Training Development and Doctrine (DOTD) at the Fires Center of Excellence (FCoE) in Fort Sill, Oklahoma and has had strategic and operational level assignments with the European Union as a member of the J3 Branch of the multinational Response Forces Operations Command in Ulm, Germany.  He also served as a planner for RC North in Afghanistan.
Lt. Col. Groborsch is from Kaufbeuren (near Munich) and is the proud papa of one adult son.
Contact
ThomasGroborsch [at] bundeswehr.org