Image

Portrait image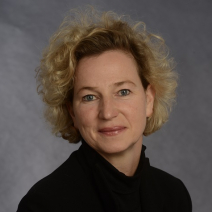 Katrin Bastian, Ph.D.
Professor
Research and Policy Analysis
Areas of Expertise
European Union, Common Foreign and Security Policy (CFSP), Common Security and Defense Policy (CSDP), EU's Ability to Act, EU-NATO Cooperation, History of European Integration
EU-Russia Relations
Regional Security in the Mediterranean
Regional Security in the European High North, Arctic
Academic Degrees
Ph.D., International Relations, Humboldt University, Berlin, Germany
Master of Arts, Medieval and Modern History, Political Science, and Cultural Anthropology, University of Cologne, Germany
Dr. Katrin Bastian joined the Marshall Center in September 2020 and is a Professor of International Relations. Dr. Bastian serves in the Research and Policy Analysis Department, with a focus on EU foreign and security policy and the EU's ability to act as a security provider. She also serves as Deputy Director of the European Security Seminar South (ESS-South) and the European Security Seminar North (ESS-North), adopting a holistic approach to regional security by examining local, regional, and global dynamics.
Before joining the Marshall Center, Dr. Bastian worked as the personal adviser to the Ambassador of the Principality of Liechtenstein in Berlin, where she was involved in a wide range of bilateral diplomacy and political communication. During her 16-year service at the Embassy, she also worked as lecturer of International Relations at Humboldt University Berlin (2005-2008) and at the University of California at Berkeley, U.S. (2009).
Dr. Bastian received the "Europe Award" of the Association of Berlin Industry (VBKI) in 2006 for her dissertation on "EU-Russia Relations." In addition, she received a grant by the German Research Association (DFG) for her Ph.D. at the International Relations Department at Humboldt University.
Contact
gcmcpublicaffairs [at] marshallcenter.org