Image

Portrait image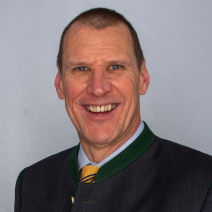 James W. Derleth, Ph.D.
Professor
Strategic Security Studies
Areas of Expertise
Irregular Warfare
Hybrid Threats
Central and East European Security
Civil-Military Relations
Resiliency
Academic Degrees
Ph.D., East and Central European Politics, University of Maryland, College Park, MD
M.A., International Security, University of Maryland
M.A., US National Security, The American University
Bachelor of Arts, (Double Major: History and Political Science), University of Wisconsin‑Stevens Point
Dr. Jim Derleth joined the Marshall Center in January 2021 as a Professor of Irregular Warfare. He is responsible for developing and implementing an Irregular Warfare program.
Prior to joining the Marshall Center, Dr. Derleth was the Senior Interagency Training Advisor at the Joint Multinational Readiness Center in Hohenfels, Germany (2010-2020). His responsibilities included educating and training civilian and military personnel in Irregular Warfare, Stability Operations, and Civil-Military Operations. From 2004-2010 Dr. Derleth was the Senior Stability Advisor at United States Agency for International Development (USAID). He led the team that created an interagency assessment tool (District Stability Framework [DSF]) that helps identify sources of instability, design programming to diminish them, and measure the effectiveness of the programming. The DSF was incorporated into U.S. Army and NATO doctrine and USAID's Stability Policy. Dr. Derleth contributed to U.S. Army Doctrine Publication (ADP) 3-07, Stability Operations and co-wrote NATO's Allied Joint Publication 3.4.5, Military Support to Stabilization and Reconstruction Operations. He also participated in senior-level interagency task forces that developed and implemented multi-faceted counter-terrorism programs in the Sahel and East Africa.
Before joining the government, Dr. Derleth was a professor at the Payson Center for International Development and Technology Transfer at Tulane University and the University of the Pacific. He developed and taught undergraduate and graduate courses in Comparative Politics, International Development, International Relations, and International Security.
Dr. Derleth is the recipient of numerous awards, including the Lithuania Military Academy Medal for Diligence, the Department of Defense Civilian Service Achievement Medal and multiple honors from the United States Agency for International Development. He is also the recipient of two Fulbright Lectureships (Bulgaria 1992-1994 and China 1999-2001), and a Fulbright Senior Specialist award (Uganda, 2002).
Contact
gcmcpublicaffairs [at] marshallcenter.org