Image
Portrait image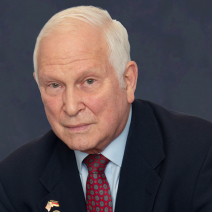 Dr. Raphael Francis Perl
Executive Director
Partnership for Peace Consortium
Dr. Raphael Perl serves as the Executive Director of the Partnership for Peace Consortium of Defense Academies and Security Studies Institutes (PfPC) at the Marshall Center. Dr. Perl previously served as Head of Anti-Terrorism Issues for the Organization for Security and Cooperation in Europe (OSCE) in Vienna. From 1985-2011, he was a senior national security policy analyst with the U.S. Congressional Research Service (CRS).

A graduate of Georgetown University's School of Foreign Service, Law School, and the U.S. National War College, he has authored over 100 congressional and academic publications, including (1) Asymmetric Warfare: A Doctrine to Fit the Times, (2) Asymmetric Warfare as a Tactic of Hybrid Warfare: Challenges and Response, (3) Addressing Transnational Threats: Seven Options for Consideration, (PfP Consortium, 2016 & 2014), (4) Combating Terrorism: The Challenge of Measuring Effectiveness (CRS 2007), and (5) Combating Extremist Ideologies: Measuring Effectiveness: Considerations for Public Diplomacy (Connections, 2006).

Dr. Perl speaks regularly at international academic and government events. He has addressed the U.N. General Assembly on global counter-terrorism strategy, and also testified before Congress on terrorism and drug policy, including the 9/11 Commission Report. As a Fellow at the National Academy of Engineering, he directed an interdisciplinary team that assessed terrorist risk.

He currently oversees the PfP Consortium's multinational programs, curriculum development, and research activities. The PfPC engages experts from over 40 nations, and co-implements the Defense Education Enhancement Program (DEEP) with NATO International Staff.

Dr. Perl is a retired U.S. Army Reserve Colonel and Foreign Area Officer (FAO), with service in the Office of the Secretary of Defense, and is a veteran of the first Gulf War. He speaks German, and has working-level French.
Downloads
Perl, Raphael Francis Biography