Image

Portrait image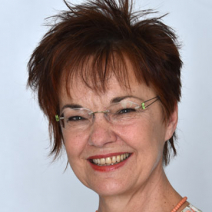 Dr. Petra Weyland
Professor
Middle Eastern Affairs
Dr. Petra Weyland has been a professor of Middle Eastern affairs at the George C. Marshall European Center for Security Studies since 2003.  Her expertise is in Islam/Islamism; political, social and cultural aspects of transformation in the Middle East; Islam and the West; the peace process in the Middle East; civil-military cooperation; peace support operations; and intercultural dialogue.
Prior to the Marshall Center, Dr. Weyland was a professor at the German Armed Forces Command and Staff College, Hamburg, from 1993-2003.
From 1990 – 1993 she was a research fellow at the German Orient Institute in Istanbul.  She also was a research fellow at the American University in Cairo where she was working on Egyptian labour migration to Iraq.
She was also a lecturer and research fellow at the Universities of Bielefeld and Hamburg.
Dr. Weyland earned her Ph.D. in Social Anthropology from the University of Bielefeld, Germany, in 1990.  She also received a master of arts degree in Islamic Sciences from the University of Bonn, Germany, in 1983.
In 2003, Dr. Petra Weyland joined the faculty of the College of International and Security Studies at the George C. Marshall Center, and departed in 2020.
Publications
"Shared Responsibility and Comprehensive Security in the MENA Region,"Marshall Center Perspectives, no. 6, (November, 2018).
"The Complexities of Migration," per Concordiam: Journal of European Security and Defense Issues, 7:1 (Winter, 2016): 7.
"Garmisch-Partenkirchen Responds to Europe Migrant Challenge," per Concordiam: Journal of European Security and Defense Issues, 7:1 (Winter, 2016): 44-47.
"Islamist Terrorism? A Proposal to Come to Terms with the Nexus of Islam and Security," Connections: The Quarterly Journal, 3:3 (2004): 79-83.
"Verhandlungsmasse - Die Situation der palästinensischen Flüchtlinge und die Bedeutung der Flüchtlingsfrage für den israelisch-palästinensischen Konflikt," in: Herz, Dietmar, Christioan Jetzlsperger, Kai Ahlborn (Hg.) Der israelisch-palästinensiche Konflikt. Hintergründe, Dimensionen und Perspektiven. Wiesbaden: Franz Steiner (2003).
"Die palästinensischen Flüchtlinge. Hintergründe, Perspektiven," in: Jaeger, Kinan und Rainer Zimmer-Winkel, Trier: Aphorisma: (2002).
"Palästinensische Flüchtlinge im Libanon und der Nahost Friedensprozess," in: Rainer Zimmer Winkel, Abdel Rauf Sinno (Hg.) Der Libanon. Trier: Aphorisma (2001).
"Europäische Identität? Versuch, kulturelle Aspekte eines Phantoms zu beschreiben," (with Martin Kutz, Hg.) Bremen: Edition Temmen (2001).
"Der Islam in Europa. Beiträge zur Europäisierung des Islams und zur Einbeziehung des Islams in ein europäisches Selbstverständis," (together with Ann-Sophie Fröhlich und Karin Hörner) in: Weyland, Petra und Martin Kutz, Hg.) Europäische Identität? Versuch, kulturelle Aspekte eines Phantoms zu beschreiben. Bremen: Edition Temmen (2001).
"Jeder hält doch nach einer grüneren Weide Ausschau! Philippinische Hausmädchen," in Istanbul Kea. Zeitschrift für Kulturwissenschaften (October, 1998).
"Bericht über eine Reise," in die Palästinensischen Autonomiegebiete. Beiträge zur Lehre und Forschung  des Fachbereichs Sozialwissenschaften der Führungsakademie der Bundeswehr (January, 1998).
with Ayshe Öncü, eds., "Space, Culture and Power. Struggles over New Identities in Globalizing Cities," (London: ZED 1997).
"Über die Bedeutung der Konstruktion kultureller Differenz," in der Auseinandersetzung um die Sicherheit Europas in FüAkBw, FB SOW Europäische Integration. Prozesse, Strukturen, Perspektiven, ms, Hamburg (1997).
"Zukunftsperspektive Mittelmeer - Mare Nostrum oder Festungsgraben zwischen Europa und dem Orient?," in Mader, Gerald, Wolf-Dieter Eberwein und Wolfgang R. Vogt: Europa im Umbruch. Chancen und Risiken der Friedensentwicklung nach dem Ende der Systemkonfrontation, (Münster: Agenda 1997).
"Im Schatten des Friedensprozesses: Palästinensische Flüchtlinge im Libanon," in Palästina-Journal 2 (1997):2-6.
"Der Clash of Civilizations. Reflektionen zur diskursiven Produktion des Feindbildes Islam," in DIALOG, (Beiträge zur Friedensforschung. 28, 1995)1-2:177-192.
Inside The Third World Village (London: Routledge, 1993).
With Ms. Bielefeld, "International Labour Migration and Household Reproduction. Egyptian Peasants in the 1990s," (1990).
"Re-Islamisierung, Fundamentalismus und Verwestlichung. Ihre Auswirkungen auf muslimische Frauen," Frauenforschung 5, 1:2 (1987): 215-225.
"Internationale Migration im Nahen Osten," Occasional Paper des Forschungsschwerpunkts Ethnizität und Gesellschaft an der FU Berlin 6 (1987).
"Remigration und Geschlechterverhältnis auf dem ägyptischen Dorf." Workingpaper, no. 95 (1987), Bielefeld.
"Asyl: Aushöhlung eines Grundrechts," Forum, Zeitschrift für transnationale Politik 3 (1986):31-33.
"Flüchtlinge aus dem Libanon," EPD- Dokumentation, (1985): 15-16.
"Wer schützt die Palästinenser? Der libanesische Lagerkrieg und Westberliner Abschiebepraxis," Blätter des IZ3W, 127 (1985):11-14.
Contact
gcmcpublicaffairs [at] marshallcenter.org