Image

Portrait image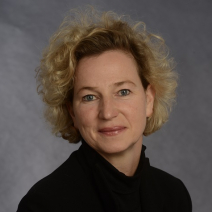 Dr. Katrin Bastian
Professor
Security Studies
Dr. Katrin Bastian is a professor of international relations at the George C. Marshall Center's College of International and Security Studies (CISS). She is Deputy Director of the Research and Policy Analysis Department (RPA) and also Deputy Director of the European Security Seminar South (ESS-South), covering security issues in the Mediterranean Region (MENA).
Dr. Bastian studied Medieval and Modern History, Political Science and Cultural Anthropology at Cologne University as well as International and European Community Law at Leicester University, UK. She earned her Ph.D. in International Relations from Humboldt University Berlin. Her thesis focused on EU-Russia relations with an emphasis on the institutional set-up and mechanisms of EU Foreign and Security Policy.
Before joining the GCMC, Katrin Bastian worked as the personal adviser to the Ambassador of the Principality of Liechtenstein in Berlin, where she was involved in the whole range of bilateral diplomacy and political communication. During her 16 year-service at the Embassy, she also worked as lecturer of International Relations at Humboldt University Berlin (2005-2008) and at the University of California at Berkeley, U.S. (2009).
Publications
"The EU in the Eastern Mediterranean—a  'Geopolitical' Actor?" Foreign Policy Research Institute, Orbis (May 2021).
"Renewed Transatlantic Responses towards China: Identifying Common Ground," (with Graeme P. Herd) Marshall Center Perspectives, No. 18 (November 2020).
Die Europäische Union und Russland. Multilaterale und bilaterale Dimensionen in der europäischen Außenpolitik, (Wiesbaden: VS Verlag für Sozialwissenschaften, 2006).
"The Specific Character of EU Russia Relations," (with Schütte, Rolf) in Hannes Adomeit and Anders Aslund (Eds): Russia versus the United States and Europe – or "Strategic Triangle"? Developments in Russian Domestic and Foreign Policy, Western Responses, and Prospects for Policy Coordination, (Berlin: Stiftung Wissenschaft und Politik, 2005).
"Unter Freunden? Die deutsch-russische Interessenallianz," (with Götz, Roland) in Blätter für deutsche und internationale Politik, no. 5, 583-592.
Hannes Adomeit, Katrin Bastian, Roland Götz: "Deutsche Russlandpolitik unter Druck," SWP-Aktuell, no. 56, (Berlin: Stiftung Wissenschaft und Politik, 2004).
"The NATO Summit in Prague: Germany's Dilemma and NATO's Future," Finnish translation in Ulkopolitiikka, no. 4/02, ed. by the Finnish Institute of International Affairs (UPI 2002), 41-44.
"Finnish non-alignment, ESDP and the new Russia-NATO Council. Why Finland should use any opportunity to deal with Russia in multilateral settings," in "The New North of Europe," Policy.
Contact
gcmcpublicaffairs [at] marshallcenter.org