Image

DoD photo by Karl-Heinz Wedhorn (519
Portrait image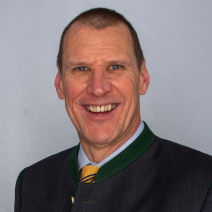 Dr. James Derleth
Professor
Irregular Warfare
James W. Derleth is a Professor of Irregular Warfare at the George C. Marshall European Center for Security Studies in Garmisch-Partenkirchen, Germany. His areas of expertise include Civil-Military Operations, European Politics and Security--with a focus on Central and Eastern Europe, Irregular Warfare, and Stability Operations.
Prior to joining the Marshall Center faculty, Dr. Derleth was the Senior Interagency Training Advisor at the Joint Multinational Readiness Center in Hohenfels, Germany. His responsibilities included educating and training civilian and military personnel in Irregular Warfare, Stability Operations, and Civil-Military Operations; integrating contemporary security challenges into education and training; and interacting with diplomatic missions, international organizations, and non-government organizations to incorporate them into training and exercises.
From 2004-2010 Dr. Derleth was the Senior Stability Advisor at United States Agency for International Development (USAID). He led the team which created an interagency assessment tool that helps identify sources of instability, design programming to diminish them, and measure the effectiveness of the programming. This work was incorporated into U.S. Army and NATO doctrine and USAID's Stability Policy. Derleth wrote U.S. Army Doctrinal Publication 3-07, Stability Operations and co-wrote NATO's Allied Joint Publication 3.4.5, Military Support to Stabilization and Reconstruction Operations. He also participated in senior-level interagency task forces which developed and implemented multi-faceted counter-terrorism programs in the Sahel and East Africa. Dr. Derleth has worked in numerous conflict areas, including Afghanistan, Colombia, Iraq, the Horn of Africa, West Africa, and Uganda.
Before joining the government, Dr. Derleth was a professor at the Payson Center for International Development and Technology Transfer at Tulane University and the University of the Pacific. He developed and taught undergraduate and graduate courses in Comparative Politics, International Development, International Relations, and International Security. He is a Visiting Professor at the Baltic Defense College, International Special Operations Training Center, and the Lithuanian Military Academy.
Dr Derleth earned a M.A. from The American University and a Ph.D. from the University of Maryland. He is the recipient of two Fulbright Lectureships (Bulgaria 1992-1994 and China 1999-2001), and a Fulbright Senior Specialist award (Uganda, 2002). He is proficient in Bulgarian, German, and Russian.
Publications
Dr. Derleth's research is focused on Irregular Warfare and Civil-Military Operations.
 "Russian New Generation Warfare, Deterring and Winning the Tactical Fight," Military Review  (September-October 2020). 
"Fostering Stability: Understanding Communities in Complex Environments," University of Exeter, Strategy and Security Institute, Occasional Paper #2 (Summer 2019). 
"Fostering a Whole-of-Government Approach to National Security from the Bottom Up," Military Review (February28, 2018).
"Effective Civilian-Military Integration," (with Jason S. Alexander and Sloan Mann) in Unity of Mission: Civilian-Military Teams in War and Peace (Air University Press, April 2016), 461-484.
"Instability, Profitability, and Behavioral Change in Complex Environments," (with Andrew Mackay and Steve Tatham) Conflict Studies Research Centre (July 2014).
"Unschooled: How to Better Train our Nation Builders," (with S. Mann) World Affairs (March 2007).
"Stability Operations: From Policy to Practice," (with Jason S. Alexander) PRISM, Vol. 2, no. 3 (June 2011).
Contact
gcmcpublicaffairs [at] marshallcenter.org