Image

DOD Photo
Portrait image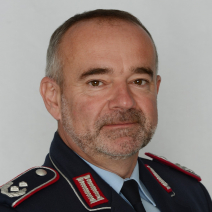 Dipl.-Ing. (Univ.) Martin L. Herrmann
Military Professor
European Security Seminar – North
Before joining the Marshall Center in October 2018, LTC (GS) Herrmann was the Defense Attaché at the German Embassy in Sarajevo, Bosnia and Herzegovina from 2015 to 2018, with additional accreditation to Kosovo. In addition, he managed and developed projects for the Federal Ministry of Foreign Affairs in de-mining, support for mine victims, destruction of ammunition and explosives, identifying weapons, securing ordnance and ammunition depots.  
Prior to 2015 he headed a technical department dealing with securing, actively employing and guarding means of communication to support the Federal Chancellery. In this capacity LTC (GS) Herrmann developed electrical engineering prototypes with Companies.
From 2005 to 2008 he was in charge of the Intelligence Liaison Office at the Joint Force Command South Naples, Italy.
In 1987, LTC (GS) Hermann joined the German Air Force in Roth as an officer cadet. After completing his officer training, he studied electrical engineering at the University of the Bundeswehr in Munich. Upon graduation in 1992, he was assigned as the Head of Data Acquisition for Signal Sector F in Kötzting. After serving as an Analyst in the Bad Neuenahr-Ahrweiler Military Intelligence Office, he served as an expert in electronic warfare for the Air Force Command North in Kalkar. Followed by assignments as senior lecturer at the Air Force Officer Academy in Fürstenfeldbruck, operations Staff Officer in Signal Sector D in Berlin, Chief of Signal Intelligence Sector in Berlin, and as and senior analyst in the Military Intelligence Center in Gelsdorf.
His foreign deployments were in 1995, 1996 and 1999. His major awards include NATO Deployment Medals, Selfless Service (Kosovo), and the Cross of Honor of the German Armed Forces in Gold.  
LTC (GS) Herrmann speaks also English, Italian, Bosnian/Croatian/Serbian.
LTC (GS) Herrmann is also serving as Deputy Director ESS-E, Deputy Director ESS-S, Deputy Director ESS-N, Head of Internship Program and is a Military Professor.
Contact
gcmcpublicaffairs [at] marshallcenter.org