Image
Portrait image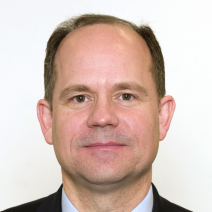 Dean L. Dwigans
Executive Director for Administration
College of International and Security Studies
Dean L. Dwigans is the Executive Director for Administration, College of International and Security Studies for the George C. Marshall European Center for Security Studies. In this capacity, he oversees the Office of the Dean and all administrative and operational aspects of the College.
Mr. Dwigans served as the College Acting Associate Dean from May to October 2019, College Director of Operations and Plans and Deputy of the Outreach Program from 2016-2019 and Director of Alumni Programs from 2010 to 2016.  From 2007 to 2010, he was a member of the Marshall Center faculty serving as the Judge Advocate General of the Navy Chair in International Law, Professor of International Law and Director of the Program in Advanced Security Studies.
Mr. Dwigans retired as a Captain from the U.S. Navy in 2010 after a 25-year career in the Judge Advocate General's Corps. His assignments included legal, staff and operational billets in California, Florida, Hawaii, Washington state and Washington D.C. as well as Germany, Italy and Japan. He served 13 of his 25 years in service overseas.
Past assignments include commanding officer of the Navy's largest legal command covering the Pacific and Far East; senior legal advisor to Navy Region Hawaii, Navy Region Northwest, Prosecution Detachment Far East, Naval Criminal Investigative Service, USS INDEPENDENCE (CV 62) for two deployments, and other Navy legal and operational commands in Japan and Italy. Many of his years were spent as a criminal prosecutor. In addition, he was assigned as senior Navy counsel to the general counsel's office at the National Security Agency.
Mr. Dwigans graduated from Creighton University with a degree in business and a Doctor of Laws (JD). He later received an advanced law degree from Georgetown University in International and Comparative Law (LL.M). He also has attended the Navy Corporate Business Course at the University of North Carolina Kenan-Flagler Business School. 
Mr. Dwigans' personal decorations include the Legion of Merit, Defense Meritorious Service Medal, Meritorious Service Medal, Navy Commendation Medal, and Navy Achievement Medal.
Publications
with James K. Wither & Sam Mullins, "Issues in Combating Terrorism," in combating transnational terrorism (Sofia: Procon Ltd., 2015), 163-179.
with Michael Schmitt, "International Law and Counterterrorism," in Toward a Grand Strategy Against Terrorism (Christopher Harmon et al., eds., McGraw-Hill, 2010), 86-102.
Contact
gcmcpublicaffairs [at] marshallcenter.org