Image

DOD photo by Karl-Heinz Wedhorn
Portrait image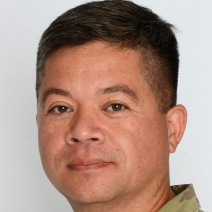 Colonel Oscar F. K. Diano, U.S. Army
Director Operations
College of International and Security Studies
COL Oscar F. K. Diano is the Director of Operations, for the College of International and Security Studies, at the George C. Marshall European Center for Security Studies. He earned his commission from The Citadel, The Military College of South Carolina in 1994.
After completing the Armor Officer Basic and the Scout Platoon leader's course, he reported for duty to K Troop, 3rd Squadron 3rd Armored Cavalry Regiment, Ft. Bliss, TX, where he served as a tank platoon leader and scout platoon leader.  During his assignment, COL Diano moved from Ft. Bliss, TX, to Ft. Carson, CO. His next assignment was as the Regimental Headquarters and Headquarters Troop Executive Officer before departing Fort Carson to attend the Air Defense Artillery Officer Advanced Course, the Combined Services Staff School and the Cavalry Leader's course.
After successfully completing both courses, COL Diano next served in Budingen, Germany, with the 1st Squadron, 1st United States Cavalry.  After a six month tour with NATO SFOR in Sarajevo, Bosnia, he served as 1/1 CAV's Maintenance Officer and S4. He then assumed command of C Troop, 1/1 Cavalry.  After commanding C Troop for a year, COL Diano assumed command of Headquarters and Headquarters Troop, 1-1 CAV, and deployed them to Baghdad, Iraq, in support of Operation Iraqi Freedom. 
In October of 2003, COL Diano returned to Germany and reported for duty as an observer controller (O/C) to the Combat Maneuver Training Center, Hohenfels, Germany (Now renamed the Joint Multinational Readiness Center). While working as an O/C he served as an assistant S3 trainer, Company/Team Trainer and, lastly, as the senior task force analyst.
After completing his second full tour in Germany, COL Diano reported to the Command and General Staff College in Ft. Leavenworth, Kansas, in August 2006. He graduated June of 2007 with a Masters of Military Arts and Science. Two weeks after graduation, COL Diano reported for duty with as the Executive Officer for Support Squadron, 3rd Armored Cavalry Squadron, Ft. Hood, Texas. 
 In October of 2007, COL Diano deployed for a 15 month tour in support of Operation Iraqi Freedom to FOB Marez, Mosul where he operated for the next 6 months. In May of 2008, COL Diano moved 45 KMs south to assume duties as the Operations Officer for 1/3 ACR based at Qayarrah, Iraq. At the end of his 15 month tour, COL Diano returned briefely to Ft. Hood before returning to Germany for his third tour.
COL Diano served at the Headquarters, United States European Command (HQUSEUCOM), European Plans and Operations Center (EPOC), Joint Training, Readiness and Exercise (JTRE) as the Division Executive Officer (XO) and an exercise planner tasked with overseeing the planning and execution of EUCOM's Joint Task Force training exercise, AUSTERE CHALLENGE. It was while serving at EUCOM that COL Diano was selected to command 2nd Squadron, 16 U.S. Cavalry Regiment (Armor Basic Officer Leaders Course) from June 2012 to June 2014.
In July of 2014, COL Diano reported aboard the U.S. Naval War College as a military professor teaching in the National Security Affairs Department. During a non-teaching semester, he served as the Operation Inherent Resolve Deputy CJ35 (Future Operations) returning in June of 2015. COL Diano later attended the Naval War College graduating June 2017 with a masters in national security and strategic strategies.  Upon graduation, COL Diano was assigned to Combined Forces Command (CFC) as the Deputy Chief for Future Operations and the United States Forces Korea (USFK) Chief of Future Operations (J35). He arrived to the Marshall Center in June of 2019.
AWARDS AND DECORATIONS
Defense Superior Service Medal
Bronze Star with oak leaf device
Defense Meritorious Service Medal
Joint Service Commendation Medal with 2 oak leaf devices
Joint Service Achievement Medal
Meritorious Service Medal with two oak clusters
Iraqi Campaign Medal
Global War on Terror Expeditionary Medal
National Defense Service Medal with bronze star
NATO Medal
Contact
gcmcpublicaffairs [at] marshallcenter.org