Image

Portrait image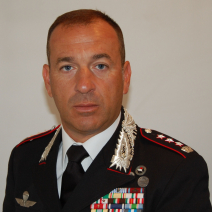 Colonel Claudio Cappello, Carabinieri Corps
Military Professor
Strategic Security Studies
Areas of Expertise
Criminal Investigation
Counter Terrorism
Countering Transnational Organized Crime
International Humanitarian Law/International Human Rights Law
Law Enforcement Capacity Building
Academic Degrees
Bachelor's Degree, Law, La Sapienza University, Rome, Italy
Master's Degree, Internal and External Security Sciences, Tor Vergata University, Rome, Italy
Colonel Cappello joined the Marshall Center in October of 2020 as a Military Professor of International Security Studies. Colonel Cappello also serves as the Course Director of the Senior Executive Seminar.
Prior to joining the Marshall Center, Colonel Cappello served as the Carabinieri Provincial Commander for the province of Varese. He has held numerous command positions in Italy and abroad dealing with Law Enforcement issues, UN/NATO Peace Support Operations, Crisis Response Operations and Military Operations Other Than Wars.
Colonel Cappello's personal awards include Five Mentions in Dispatches (MiD), Order of Merit of the Italian Republic (Knight), Mauriziana Medal of Merit for five decades of military service, Gold Medal for long service in command (first grade for 20 years), and the Gold Cross with gold star for military seniority (40 years). He is also the recipient of the Italian Red Cross Commemorative Medal for the international mission in Iraq, Order Of Malta Officer Cross with Swords pro Merito Melitens, NATO medals (former Yugoslavia, Kosovo, Non-Article 5), United Nations Operation in Somalia (UNOSOM) Medal, Temporary International Presence in the city of Hebron (TIPH) Medal, Afghanistan Loya Jirga Medal, Commemorative Medal of the Argentine National Gendarmerie, and the Slovenia Medal for cooperation and friendship.
Downloads
Col. Claudio Cappello Biography