Image

DoD photo by Karl-Heinz Wedhorn
Portrait image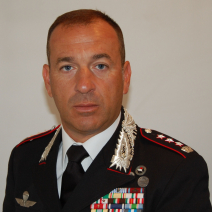 Colonel Carabinieri Corps (ITA) Claudio Cappello
Military Professor
Senior Executive Seminar
Colonel Claudio Cappello attended the Nunziatella Army Military School from 1983 to 1986, after which, as a Carabinieri cadet, he attended the Military Academy of Modena from 1987 to 1989. In 1991, he graduated from the Carabinieri  Officer School in Rome, where he read law.
At the end of 1991, First Lieutenant Cappello reported for duty at the 1st   Carabinieri Parachutists Battalion Tuscania in Livorno, Italy, where he served first as a platoon leader and later as a company commander. In 1995, Cappello was promoted to captain and appointed to the territorial organization in Alba, Cuneo as commander of the local Carabinieri company, dealing with law enforcement, before attending the staff course at the Carabinieri  Officer School in Rome in 2000.
In 2001, Cappello was promoted to major and appointed to serve as commander of the Carabinieri Cacciatori (Hunters) Heliborne Squadron "Sardinia" in Abbasanta, Oristano, a unit specializing in fighting banditry and locating kidnapped. During this time, he earned a bachelor's degree in security sciences.
Three years later, Col. Cappello moved back to the Carabinieri  Paratrooper Regiment as Commander of the Training Centre (Battalion-Size). During this time, he earned a master's degree in internal and external security sciences and attended many international training courses, including:
The "Operations Planning Course" (OPC), first at the International Special Training Centre (ISTC) in Pfullendorf, Germany in 2006, and then at the Swedish Armed Forces International (SWEDINT) Centre, in Södertälje, Sweden.
The "5th Course on International Human Rights and Humanitarian Law in Peace Operations" at the International Institute of Humanitarian Law in Sanremo in 2008.
The "Multinational PSOs Officers' Advanced Course" at the Hellenic Multinational Peace Support Operations Training Center in Kristoni, Greece in 2008.
The "NATO Police Operational Mentoring and Liaison Teams (POMLTs) Course" at the Joint Force Training Centre (JFTC) in Bydgoscz, Poland in 2010, and later in the same year at the ISAF – Regional Command West in Herat, Afghanistan.
Colonel Cappello has also deployed to several operational missions overseas:
Four months to Somalia (United Nations Operations in Somalia – UNOSOM) in 1993, as Carabinieri    Parachutists Mechanized Platoon Leader.
Three months to Israel (Temporary International Presence in Hebron – TIPH) in 1994, as an observer.
Eleven months to Bosnia (Stabilization Force – SFOR within operation "Joint Forge") between 1998 and 1999, first as Multinational Specialized Unit (MSU) company commander (a unit for riot control and policing operations) and then as MSU Manoeuvre Unit Commander (a unit consisting of personnel from the Carabinieri  Special Intervention Group "G.I.S.," the Parachutists Carabinieri, and investigation teams).
Eleven months to Iraq between 2003 and 2005 as MSU Manoeuvre Unit Commander, dealing also with Iraqi Police training and mentoring tasks.
Promoted to Lieutenant Colonel, seven months to Lebanon (Joint Task Force Lebanon – JTFL) in 2007, as Provost Marshall.
Twelve months to Afghanistan between 2010 and 2012, first as Police Operational Mentoring Liaison Team (POMLT) Commander and later as Regional Command (RC)-WEST Police Advisor Team (PAT) Commander, with jurisdiction over the Herat Afghan National Police (ANP Provincial and Regional HQ) and the Third Brigade of the Afghan National Civil Order Police (ANCOP).
Col. Cappello was promoted to colonel in September 2012 and appointed to serve as the commander of the Fifth  Carabinieri   Mobile Regiment in Bologna, a unit with anti-riot functions and tasks in support of the Carabinieri  territorial organization. Two years later, he served as the commander of the 2nd Non-Commissioned-Officers (NCO) Cadet Carabinieri   Regiment based in Florence.
In September 2016, Col. Cappello returned to the territorial organization as Carabinieri Provincial Commander for the province of Varese, where he has spent the last four years working once again with law enforcement.
Col. Cappello has taken part in different national and international training activities (in France, Estonia, and Israel), and more recently was involved as a mentor in the U.S. Minister of Defence Advisor (MoDA) Program carried out in Indiana.
He has qualified for Italian, French, and U.S. paratrooper wings (both static line and free fall) and has been awarded several qualification badges and ribbons, such as patrol leader, pathfinder and bodyguard course, scout, military police, and military driving instructor.
AWARDS AND DECORATION
Five Mentions in Dispatches (MiD)
Order of Merit of the Italian Republic (Knight)
Mauriziana Medal of Merit for five decades of military career
Gold Medal for long service in command (first grade for 20 years)
Gold Cross with gold star for military seniority (40 years),
Italian Red Cross Commemorative Medal for the international mission in Iraq
Order Of Malta Officer Cross with Swords pro Merito Melitensi
NATO medals (former Yugoslavia, Kosovo, Non-Article 5)
United Nations Operation in Somalia (UNOSOM) Medal
Temporary International Presence in the city of Hebron (TIPH) Medal
Afghanistan Loya Jirga Medal
Commemorative Medal of the Argentine National Gendarmerie
 Slovenia Medal for cooperation and friendship
Col. Cappello is a passionate sportsman who enjoys skiing, hiking, sailing, and scuba diving.